Asus FX503VD Review – i7 Gaming Laptop With Intelligent Cooling Design
For testing the performance of gaming laptops, we focus more on the performance and graphic power. Even though ample of models under "high-end" series doesn't deliver good battery, but considering other foremost features, Asus ROG series is one of the finest. We got a chance to review FX503 series gaming laptop. Under this series there are two variants, one is powered by Core i7 and second runs on Core i5 processor. The review unit we got today is Asus FX503VD. It is powered by 7th Generation Core i7 CPU, 8GB RAM, GTX 1050 4GB Graphics, dual hard drive, etc. You can read the full specs below.
After using it for some couple of days our test reveals, the laptop stand well on the low and mid-range gaming. It is an amazing model if you are not expecting Ultra-graphic. Overall performance on Low and Mid-settings is fantastic. Even if you are using a second big screen you can enjoy seamless gaming on mid-settings. Coming to high and Ultra-High, I am not pleased, however having the highest config doesn't mean we can push the laptop beyond its limit. It's still a laptop with limited space for cooling which is according to me is one of the key factors affecting gaming performance on high settings.
Asus FX503VD Specification:
Display: 15.6″ 60HzAnti-Glare LED 178˚ wide-viewing FHD Display
Processor: Intel Core i7-7700HQ CPU @ 2.80GHz. Max Turbo to 3.8Ghz. (Socket 1440 FCBGA)
RAM: 8GB DDR4 (Expandable Upto 32GB)
Primary Storage (Drive 1): SanDisk MSata 120 GB SSD
Secondary Storage (Drive 2): 1TB Hitachi Travelstar 7K1000 (7200 RPM)
Integrated Graphics: Intel(R) HD Graphics 630
Dedicated Graphics: NVIDIA GeForce GTX 1050 4GB GDDR5
Keyboard: Illuminated Chiclet Keyboard
Network: Integrated 802.11 AC (2×2)
Battery: 4 Cells 64 Whrs Battery
Weight: 2.5KG
Build & Display:
Asus FX503VD body is crafted in gunmetal gray with brushed metal finishing. The dark color and red back-lit keyboard gives it a game machine look. The screen size is 15.6" and the laptop weighs around 2.5kg. It is not fare enough to say it is extremely portable to carry, but a good thing is it comes with a nice bag that makes it a bit handy. Don't forget to keep the power adapter with the laptop if you had plans to play games in weekends. Battery drain is fast on gaming.
FX503VD has a 60Hz anti-glare screen that produce a max resolution of 1920×1080. The LED back lit FHD screen provides an amazing quality both for gaming and for multimedia. Whether you are watching videos or playing games, you won't face much problem. 15.6" is a pretty decent size for mid-level gaming, image details are crisp unless the laptop heats up and your eyesight tinkered by artifacts. Full HD IPS-Level display is good if you love watching movies a lot. The viewing angle are also fine, 178 degree gives a nice view to others who are setting to extreme left or right. Its anti-glare feature helps a lot while playing games for long-hours, keeping it on mid-brightness does not impact the eye much.
There is also a web cam added on the top center of screen with noise cancellation array microphones and camera light indicator. Below the screen there are four status indicators on the right end. The first one is power indicator, second is battery indicator. This one changes light color according to the battery power, solid green means more than 95% battery, Solid Orange is less than 95%, Blinking Orange means less 10% and it does not turn on then it means the battery is below 10%. Last two are Drive Activity and Airplane mode indicators. Then there is a huge power button below. There is an audio speaker above the keyboard. The speaker audio output and volume quality are amazing. Next is the full keyboard with dedicated numeric keypads, and a huge touch pad in the end.
FX503VD has a sleek n-key rollover keyboard with back light followed by a huge touch-pad. Keys are very soft to use, but I would not really recommend them for gaming. It is always good to have a dedicated keyboard mouse if you want a hassle-free control. One good thing about the keyboard is it has scissor-switched keys, they are big enough for your fingers to land well on them. Due to ample of distance between, you can type well without many issues. The area around touch-pad is big enough for you to rest your hand, and standard WASD keys are easily accessible, but if you are a pro gamer and use lot of Macro keys then as usual you must stick to a secondary keyboard. ASUS has also isolated the arrows keys separately for those who would like to use them for direction control in games. Playing racing games like Forza or similar ones that doesn't demand too much key controls is comfortable on FX503VD.
Getting a laptop back in the package is thoughtful, it adds more to the movability, and the 2.5kg size is not hefty if you would like to carry it with you. But remember playing games outdoors means draining the battery in less than 2 hours. So, try to use it in a place where you can have an easy access to the power socket.
On the right side you will get a USB 2.0 port and Micro-SD card slot. On the left side the first on left end is Power (DC) input port, LAN port, HDMI port and two USB 3.0 ports. At the end there is a single 3.5mm combo Headphone/Mic Jack. There are two additional audio speakers on the left and right end.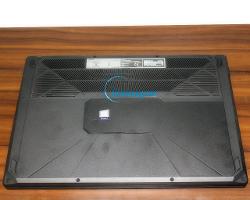 On the bottom side of laptop there is a massive air vent, through which you have see the led fans. There is also a compartment cover that offers you a direct access to removable SSD, Hard drive and RAMS modules. You can update the storage and ram modules just by opening the compartment cover. An ideal upgrade point for many who would like to beef up the hard drive storage or increase the ram power for more performance.
Gaming Performance:
Coming to the actual analysis where we will test and find out how well Asus FX503VD can land on the gaming performance benchmarks. We begin with a few benchmarking test the reports are below.
3DMark Test: We ran different test one on DirecTX12 where the laptop scores low. It gains good point in the mid-range gaming test.
3DMark – Time Spy (Direct X 12) – Score 1922 (The test renders 2560×1440 resolution)
3DMark – FireStrike 4K Ultra (Direct X 11) – Score 1186 (The test renders 3840×2160 4K UHD resolution)
3DMark – FireStrike High-End Gaming Test (Direct X 11) – Score 5882
3DMark – Sky Driver Mid-Range Gaming Test (Direct X 11) – Score 17522
Cinebench Test: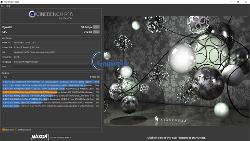 CrystalDisk Hard Drive Test: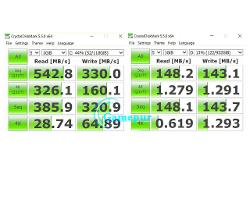 (128GB SSD &1TB HDD Read Write Test)
Above are the test results, if we summarize the overall output of these test then we conclude Asus FX503VD is ideal for mid-range gaming. With no issues you can play game and expect more battery power. But if you are having plans for 4K Ultra HD or High-End gaming then the system can struggle to give you stability. Talking about mid-range gaming, the game offers a decent output if you are not pushing your game settings to very high. For example, in Assassins Creed Origin's video settings there are 7 Presets Graphic settings. Very Low, Low, Medium, High, Very High, Ultra High and Custom. The game performs with no issue till High, but if I go above that I had noticed a spike in temperature and the game lags. The game load speed keeps on getting slow with rising graphic settings. I had faced no problem on medium. To play on High settings it is very important that you shutdown all the background processes.
Having Core i7 contributes a lot to the processing power, the laptop does have lot of power, but we think due to lack of liquid cooling support expecting a long gaming on high settings is not possible. Talking about its internal cooling, the laptop features a pair of cooper heat pipes with dual-fan system. They can be switch between Over boost and Auto through FN + F5 key. These are air cool fans, with their rpm limitations. Also, you can try out VR games, Nvidia 1050 support VR.
Battery Output:
Asus FX503VD runs on 4 Cells 64 Whrs Battery. We would still not consider the battery power here, because it is obvious being a gaming laptop and due to design limitation, it is tough to integrate a long-lasting battery. However, the laptop can offer you a decent hour of usage approx. 4 to 5 hrs. If you are not constantly playing games. This includes regular usages like watching movies, web surfing, etc. But if you are doing a job that consumes high system resources then battery power depletes fast. On Ultra-High settings when I tried playing Forza, the laptop was unable to withstand for 2 hours, and if the same settings are reduced to mid-game settings the battery capacity is boosted. There are also many other factors that contribute the battery output, like using the high-sound speakers consume more power, setting the fan on boost, etc. Overall if you are serious about high-end gaming then it not to fare to expect much in terms of power, otherwise the battery is decent in terms of gaming laptop.
Conclusion:
Asus FX503VD is designed for performance and durability. It has its ups and down. The laptop ranks high in terms of processing power. But we would not rate it high for Ultra-Hd gaming. Instead it is a good machine for dual display and playing games on standard 1920×1080 resolutions. Ram capacity is enough and dual storage where SSD boost your OS and app performance. The secondary drive is massive for installing your games, the SSD capacity is short, so you cannot put everything in it, we recommend you use the secondary 1TB drive, though there will be slow load times, but with mid-graphic settings you will not face lag problem. Asus FX503VD comes with 2 years warranty, there are around 4 different variants in the series. All prices are specs are listed below.
Rs. 87,990.00 (SRP)
Corei7-7700HQ
8GB RAM
128GB SSD + 1TB Hard Drive
GT 1050 4GB
Rs.79,990.00 (SRP)
Corei7-7700HQ
8GB RAM
1TB Hard Drive
GT 1050 4GB
Rs.75,990.00 (SRP)
Corei5-7300HQ
8GB RAM
128GB SSD + 1TB Hard Drive
GT 1050 4GB
Rs.69,990.00 (SRP)
Corei5-7300HQ
8GB RAM
1TB Hard Drive
GT 1050 2GB