Review: Forza Motorsport 7 Is Driving Towards Perfection
The racing game landscape is getting more and more crowded, with very good titles releasing every couple years now. This year's particularly busy for people who love to play such titles, with not only Forza Motorsport 7 and Project Cars 2 already out in the open, but also the upcoming Gran Turismo Sport, which is delivering the much anticipated return of the PlayStation classic series. Today we'll be focusing on the latest entry of the Forza Motorsport series, returning to Xbox One and PC after the much appreciated exploit of Forza Horizon 3 – ended being like one of the most appreciated arcade racing games ever. So, let's take a look at what's new in the newest Turn 10 Studios triple-A.
In terms of how the game plays, you'll notice a huge improvement about handling the car and the feeling of it being in a concrete place, on the top of a real surface. It's hard to explain, but looking at Project Cars 2 for example – there, it feels like you're constantly slipping along the track. Forza 7 is a different story. Especially with the fastest cars in the game, you'll have the impression you doing an effort driving it through the entire race and reaching the target, which is driving feedback at its finest. Turn10 was able to fully deploy the power of the Xbox One controller, that, as you might know, has rumble even in its triggers, and this has a concrete relevance and impact in the way the game conveys the emotion of driving a high speed, fully mechanized car. It's like you always know what's happening in your car internally, which part of it you are pushing while doing a certain action in a certain moment. Again, it's an important improvement for a genre where you usually feel like it's the track to move around you (Gran Turismo) or you're simply slipping across it over, and over again, and one which looks possible only on Xbox.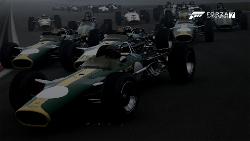 On the other hand, anyway, Forza should do couple step forwards in order to be more balanced when it comes to the challenge offered while in the track. At the higher difficulty levels, for example, in the Forza Driver's Cup you have very few laps and feel rushed to reach the top of the chart if you want to stay in the first three or win the race. This is why eventually you're crashing against all the cars ahead of you, even though you want to play it fine and politely, and that's "ok" despite being a bit disappointing for those like me who love to do it right in gaming. What's more disappointing is that the game doesn't feature a proper penalty system, one that would prevent you from acting like a total asshole; stopping you for couple seconds, slowing you down, providing more mechanical damage to your car…things like these would be enough or at least a good place where to start from. But none of these happens in Forza Motorsport 7, so it really should be something for Turn10 to look into, for the next chapter in the franchise.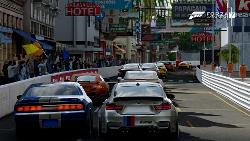 This year, Forza is also introducing loot boxes. They're so shiny they're basically going to be the center of the Forza Driver's Cup, and while they're not doing any harm concretely, it's disappointing to see how they put car enhancements in a position where they look less relevant. Especially in the first half of the campaign, you're almost never required to pimp your ride, and that's because of the loot boxes attracting all of your attention with their bonuses and mods (stuff you can use, like limiting your view angles to just the one from the inside of the car, in order to grab more credits). On top of that, this mechanic has also raised some concern among the fans all over the world, mainly because of the future introduction of micro-transactions. Once they're included in the game, you'll be provided with the chance to pay just to get more loot boxes and mods, granting more in-game credits and all the stuff you can purchase using them. This means you'll have faster cars sooner, and you'll be able to use them and have a concrete advantage while playing online against real life "drivers" in the multiplayer modes. So concern is really something I comprehend at this stage, also because the developer doesn't seem to have provided the game with a good balance from this perspective – they'll probably be required to do so when the micro-transaction system goes into full functionality.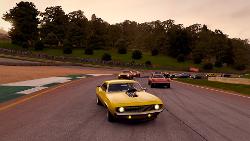 Finally, let's talk some graphics, shall we? Forza Motorsport 7 improves upon the already much appreciated visual basis of the previous iteration, introducing couple novelties in terms of how they work dynamically with what's happening on the tracks and might happen when it comes to the weather. Substantially, the inclusion of the dynamic weather – a condition where all of a sudden it starts raining on the track, completely changing your perspective of running for the first spot in the chart rather than simply maintaining your position just to not take any risk – is a good addition which enhances realism, although being present only in a few tracks rather than all the circuits in the game. Nothing really really new, Project Cars already did that couple years ago, but it feels like it was a step the Forza franchise needed to do in order to stick as close as possible to that realism vibe it strives to reach in all its other components. Looking at the pure graphics, I noticed lots of aliasing, an issue which is constantly with the franchise and apparently won't go away – at least, until the release of the Xbox One X enhanced version. The models of the cars don't' look like they have been reworked in any particular ways, and at times start to have an unpolished look, but see how many of them are included in the game… I've never seen a collection of cars as big as the one of Forza Motorsport 7, all complete with Autovista and a dedicated look&feel while on the track, so it sure enough is a fantastic effort coming from Turn 10 and that must be remarked.
Then, the latest Forza Motorsport game comes in with a lot of good stuff, a great offer of content both in the single-player and multiplayer sides, despite not coming with so many novelty elements – which you would expect, after so many annual or so iterations. It's nice to see anyway how Turn 10 always raises the bar when it comes to the look & feel of the franchise, adding more and more cars from the very first moment (just for comparison's sake, GT Sport is releasing with around 150 cars… here we have over 700 from the day one), modes and tracks. For the next episode I'd hope for a simpler and more focused experience when it comes to challenges and enhancements, probably without that almost anonymous and complex loot box system that's part of every game nowadays, and a slightly more varied single-player campaign with something to block you from being a bad person while driving for the victory. That's all you could do to make it a perfect racing game, although not being too little.
Screenshots