GTA V PS4 Review: Highly Detailed & Finely Polished Port Of Rockstar's Masterpiece, Worth Buying Again
Grand Theft Auto V first arrived on PlayStation 3 and Xbox 360 in September 2013 to break all the sales records (so far more than 34 million units have been sold on the last-gen consoles). So, when Rockstar Games announced PlayStation 4 and Xbox One version of Grand Theft Auto V, critics asked just one question: So many players have already played it on last-gen consoles, is it worth buying again? because this time around, Rockstar Games are offering same content with "graphics/visuals" upgrade and FPS mode. I'll provide a short an sweet answer to it before starting my detail review, Rockstar Games advertised next-gen GTA V as "The Sandbox Players Dreamt About", and this is indeed the case, it is worth buying AGAIN.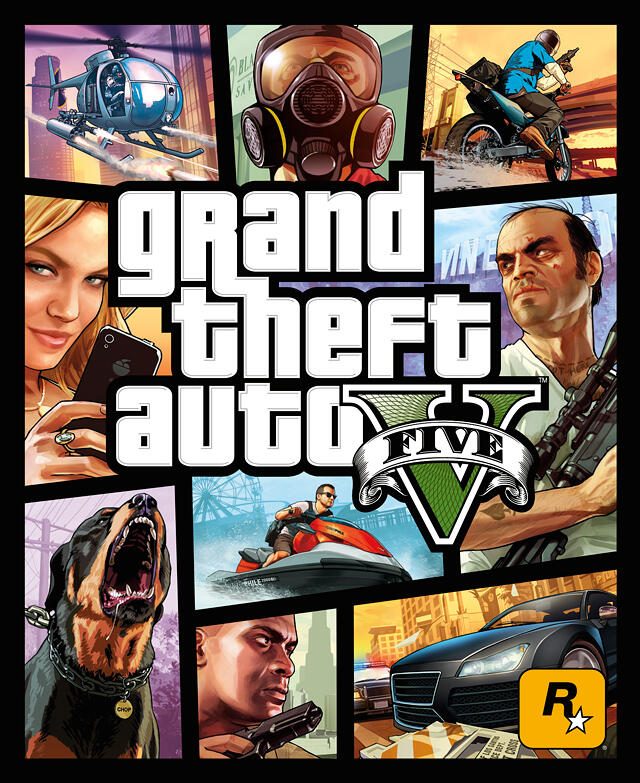 All New First Person Perspective:
The first major factor which will force gamers to buy Grand Theft Auto V the second time (on PlayStation 4) is the addition of all new "First Person Mode". There won't be a dull moment even for a second when redoing the story mode in GTA V with this new enlightened perspective.
Controlling a character and going along the story is one thing, but from the beginning till the very end, going through the entire world in an open world game in first person mode via character's eyes, truly redefines the overall gameplay experience. Hats off to the development team at Rockstar North for giving FPS mode support to GTA V, it gives players the feel of real and interactive elements.
Don't Like Playing Story Mode Again, GTA Online Comes To Rescue:
Some of you might not like redoing the story mode of Grand Theft Auto V all over again, so what's new? Grand Theft Auto Online! The addition of this mode has taken GTA franchise to an altogether different league. This is in no way similar to the online mode you guys have played in GTA IV. In GTA V online mode, Grand Theft Auto Online, you will have complete freedom for almost everything, you can create your own character in a similar fashion as done in The Sims, in fact its even better.
You will be able to customize almost every minute detail from your heritage, to body shape, and clothes. Rockstar Games gave completely free GTA Online to the players with just one aim: to make player's experience more controlled and custom to their desires.
Some of the key aspects of GTA Online experience are offered by Free Mode and different jobs that players will be able to select from. The entire concept is pretty simple and easy: you get to create your own character, build by his/her skill, raise in the ranks of criminal activity and move on. In free mode, players get his/her own bank account and wallet (pretty essential part). Via this bank account, your character will do all the legitimate purchases such as "apartments, clothes, cars" and many other things.
The primary objective of player in GTA Online is to make GTA$$$.. and this can be done in many creative ways such as "rob a bank, store, NPCs, other players, accept jobs and complete it successfully" and many more.
There are countless number of features of GTA V that i haven't even mentioned, but the last thing i want to bring to your notice is how different this new updated version of GTA V is as compared to previous gen. Well, the biggest difference clearly is the addition of first person mode, it improves the game significantly. Secondly, graphics/visuals are truly impressive and pristine. Players can clearly see gum stains on the sidewalks, huge draw distance, completely reworked texture across the entire game, never seen before weather system (Rockstar Games definitely pulls off this feature perfectly, it looks real-life). The usage of DualShock 4 controller adds to the immersive experience: it'll flash red and blue when the cops are at you. When there's an in-game call, your character voice will come out from TV whereas the other player voice will come via DualShock 4 controller.
Conclusion:
The price that Rockstar Games charged for Grand Theft Auto V Remastered for PlayStation 4 is definitely worth it. Agreed that this isn't a brand new game, but the things that Rockstar Games are providing are Highly Detailed and Finely Polished version of their Masterpiece. It took Rockstar Game one whole year to port GTA V from PS3 to PS4, might be a long time in few people eyes but what they achieved with it is deliver a bug and glitch free experience.