Kingston HyperX Beast DDR3 Review: Performance Power Upto 2500Mhz [HX324C11T3K2]
Kingston is known for performance, the brand that brings a catalog of high-end hardware ideal for anyone who is not willing to compromise with power. Though the products carry high price tag, they are kind of superlative upgrades for your extreme system required if you want to challenge its gaming capabilities. RAM's are one in the hardware range. We got a Beast series memory kit. It lands into an extreme RAM modules category that comes with XMP-Ready profiles, perfect for those who are not happy with the base clock rate. This one is a CL11 DDR3 model, at present, on HyperX site, you can see DDR4 RAM's offering timings between CL12 to CL19, up to 3600 MHz Max in various Kit and Capacity.
The model that we will test is HX324C11T3K2, an old 2400MHz unit. A much newer version under Savage series is available today for $148.99. Our review is based on pure manual testing, we had not pushed for overclocking or extreme benchmarking test due to non-availability of the applicable machine.
Specification:
CL(IDD) – 11 cycles
Row Cycle Time (tRCmin) – 48.125ns (min.)
Refresh to Active/Refresh Command Time (tRFCmin) – 260ns (min.)
Row Active Time (tRASmin) – 35ns (min.)
UL Rating – 94 V – 0
Operating Temperature – 0 to 85 degree calcium
Storage Temperature – 55 to +100 degree Celsius
Design: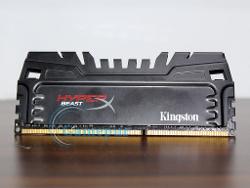 Many RAM's designed for overclocking comes with additional cooling solutions that boost the hardware's capability to work well in high temperature. Similar to them Beast series has a black aluminum heat spreader, covering the black PCB. Well, it does not really throw out heat, it works well with proper air-flow inside your CPU case. It allows the ram to work cooler especially when you had boosted the RAM MHz. The ram features a serious black design with HyperX marked on the top, resembling like a premium product.
It is attractive, the design does not interfere with other hardware like a big size GPU or liquid cooling setup. The best thing to do is to apply minimum Kits like a set of two, with high capacity if you have less space in your case. Otherwise setting up is not a big deal. The package is clear-cut, HX324C11T3K2 is a Kit of Two RAM unit of 8GB each packed in a thin plastic box.
Performance: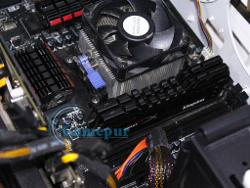 XMP Timing parameters of this RAM is CL11-11-11-28 CR2 @1.5V for JEDEC DDR3-1600Mhz, CL11-13-14 @1.65V for XMP Profile 1 where you can reach 2400Mhz and 3 CL11-13-13 @1.6V for 2133 Mhz for XMP Profile 2. The Ram offers you a max 2400 MHz power (PC3-12800) are not bad enough if you want some performance on a gaming system. Anyhow it will run at 1600 MHz on the base settings, and you also have option to push it to 2400 MHz by adjusting through XMP profiles to reach more power. This can be done through bios as well, but XMP's are a lot more easily, due to the set of settings you want to apply. But if your board does not have that, you can go with manual adjustments but be more peculiar about it, improper adjustment can make your system unstable.
And relevant pc hardware plays a big role in reaching the ram max performance. For example a Core i7 level system with 980 series GPU, etc. Today compared to a DDR3, DDR4 is the lot more powerful and enhanced in terms of output. That is because of a new architecture and support from the base hardware is well optimized. If you are having a system that is a bit outdated, and still run well, a DDR3 Ram like this will deliver interesting results. Game Lags, App performance and CPU extensive work like archiving is much smoother. All it matters is to have a motherboard that is capable enough to draw out full power from the ram unit. The results are not so satisfying, well it's because of our outdated hardware.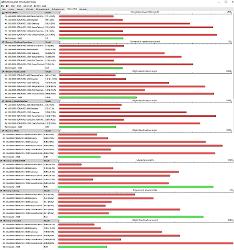 Conclusion:
Kingston HyperX Beast HX324C11T3K2 it bit outdated in terms of the hardware we see today, but we found this as a good upgrade for mid-range gaming systems. It is good to start with overclocking, an XMP-ready profile removes the hectic of manual adjustment with the ram settings, and trying out whichever is safer. HyperX Beast series carries a lifetime warranty, but do check on the box, that makes it a one-time investment.
Soon the DDR3 will be replaced by DDR4 completely, as many new motherboard models kicking in will not support the old standards. Kingston has a Fury series that is Ryzen compatible if you are planning to go for newer models. Talking about the unit we tested, we will recommend you to have a look on the model, there is newer one available and a DDR4 model also comes with higher frequencies, only if your motherboard supports.