Watch Dogs PC Review: Exceeds Expectations But Falls Short of Being Spectacular
Ubisoft's Watch Dogs, one of the most awaited and highly anticipated brand new IP of 2014 has finally arrived on retail shelves. The game was announced way back in 2012 and the first glimpse was showcased at E3 2012. The graphics/visuals, lightning, wind effect and other aspects in the demo were stunning.
The hype for Watch Dogs among its fans was high all the time, something that was never seen before for a brand new IP. But something unexpected happened just a week before the official release of Watch Dogs, the game missed its originally projected, November 19, 2013 release date, and was pushed to early 2014 for further polishing. Fans were stunned with the reason Ubisoft provided for delay, the game that looked amazing and perfect in E3 2012 demo, then why did it need further polishing?
This delay was just the beginning of the controversies, in March 2014, Ubisoft re-revealed Watch Dogs to the world via brand new Story Trailer and immediately fans discovered that graphics/visuals details, cars model and destruction, lightning in new build are massively downgraded from E3 2012. Big guns at Ubisoft were forced to come out and pacify angry fans. Even after these massive controversies, one thing still remained the same; fans hype towards Watch Dogs.
You guys will be getting your hands on retail copies of Watch Dogs now, but some of you might eagerly be waiting to hear how the game is and did it live up to the hype? Read on to get the answers to all of those questions.
I will begin my Watch Dogs Review with: The hype was well deserved, it did live up to all expectations and it is a Must Buy game for each and every open world genre fans. I recommend playing Watch Dogs either on PC or PS4 for truly next-gen experience.
Gameplay:
Watch Dogs gameplay is ridiculously fun. Players will have countless activities to perform. Hacking is the best part of Watch Dogs, as Aiden Pearce you can just walk around Chicago City and hack stuff and the people's reaction of these stuff is like an icing on the cake.
Coming to Stealth, its also one of the most satisfying experience in Watch Dogs. To avoid the cops, you, as Aiden can make use of Stealth killing for witness or also by threatening them. The only complaint I had is, I can't perform melee on NPCs or Civilians. Melee and Jump both are contextual and players can only perform it when the game requires you to do so.
But this melee drawback is very well covered by Parkour, its really great, Aiden can perform jump over small walls, obstacles plus vehicles. Both Stealth and Parkour makes a deadly pair for perfect vigilante.
I received my copy of Watch Dogs just two days ago, and before it I was following Watch Dogs leaks, gameplay live streaming on Twitch and details from these leak raised a big question in my mind about the looks and physics of vehicles. After playing through Watch Dogs on my own I can assure you guys that Cars and other vehicles look much better than everything that was showcased in the live streaming.
NOT GOOD: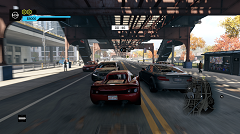 Thing that disappointed the most with respect to Watch Dogs gameplay was Driving, it is arcade style, bit difficult and takes time to get used to. Overall driving in Watch Dogs gives an impression that its lifted from a racing games like Need for Speed series, which is not suited for tight corners in Chicago City. This hurt me a lot and is the main reason behind why I will be calling Watch Dogs a great open world title but not a Spectacular/Perfect open world title. If development team at Ubisoft works a little extra, like adding a replicate GTA V driving mechanics for Watch Dogs 2, no one will be able to snatch Game Of The Year title. In short, everything in Watch Dogs is enjoyable but driving is disappointing. Handling of Trucks and SUVs works better but same can't be said for sports and other cars.
Misconception About Car Damage in Watch Dogs:
The rumors on internet stating that vehicles damage in Watch Dogs don't have any sort of dynamic deformation or damage were fake. Check out the screenshots below confirming that Watch Dogs indeed has a dynamic damage model for the different types of vehicles. Damage of vehicles is directly proportional to the impact it receives.
Chicago City: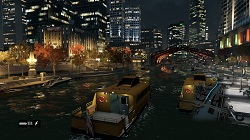 The Chicago City is not dull at all in Watch Dogs, its completely dense and feels very much alive 24×7. You as Aiden will come across numerous interesting people doing different activities. You get to meet civilians, like street performers, hookers, hackers, banker, drug addicts and many others.
The best part is that none of them are dumb pedestrians, you can come close and listen to them talking about their life. Its' this feature of Watch Dogs that gives it an edge over Grand Theft Auto V. Just enjoy the moment when NPCs get into a car accident, listen to them arguing, also worth noting is the reaction of NPCs when Aiden blocks traffic via hack or points a gun at them.
At any given time there's quite a bit of traffic on the streets of Chicago. To enjoy a bit of chaos I hacked the traffic signal on a busy intersection and guess what the result was, massive pile of vehicles, cars crashing, blowing, NPCs arguing among themselves, few helping injured and each others, in short a total Chaos.
NOT GOOD:
It would have been an amazing feeling if development team at Ubisoft added some extra features to NPCs such as "push or punch civilians". Currently, the only thing Aiden can do to NPCs is run into them full speed and the reactions they will show a are "Stumble a little or either will call you a Jerk and walk away". Repeating the same thing again and again won't change their reaction at all. Just imagine reaction of "Fight Back or Calling a Police".
Graphics, Weather And Lighting:
Graphics and Visuals wise, Watch Dogs is one of the best looking open world titles of current time. Textures are much better than other open world title such as Assassin's Creed IV: Black Flag. There's no pop-in issues whatsoever and development team went an extra mile and included a stunning looking feature that seems to have been missed by everyone of us: "Interior Simulation". Coming to weather and lightning, they are the best I have seen so far, most of you might say Infamous: Second Son have better ones, AGREED but i am giving my vote to Watch Dogs because Infamous: Second Son Seattle City looks pretty life-less as (no or very few NPCs) as compared to Chicago City in Watch Dogs.
Morality System:
Watch Dogs' Morality system is one of the best i have ever experienced in an open world game. This time around, Ubisoft tried to be as practical as possible, no more useless titles or ranks and each bar of morality comes with its set of rewards and consequences. As mentioned above, Chicago City is alive 24X7 and so NPCs keeps monitoring the actions you take. The news will reflect your deeds or misdeeds and NPCs will interact with you depending on the status.
Conclusion:
With Watch Dogs, Ubisoft delivers almost on most fronts. The game offers tons of content for open world genre fans, single-player campaign of around 40 hours and mini-games. At most fronts Ubisoft tried to replicate things offered by Grand Theft Auto V and to our surprises succeeded brilliantly. Hacking and Combat mechanic are the two things that differentiates Watch Dogs from GTA V and this is where the game shines. A Must Buy for All Open World Genre fans especially on PC or PlayStation 4.
Rating:
8.5

/10