Animal Crossing: Pocket Camp cross-pollination and flower breeding guide
Villagers love flowers, and flower breeding is a fun and simple way to grow their favorites.
Animal Crossing: Pocket Camp's in-depth cross-pollination system lets players breed their own flowers in exchange for special items. Flowers are pretty important because they can be exchanged for items, so it's a good idea to grow flowers and cross-pollinate them for unique breeds.
There are 17 different colors and types of flowers available in the game. One Reddit user created a helpful chart explaining how to get every breed of flower in the game.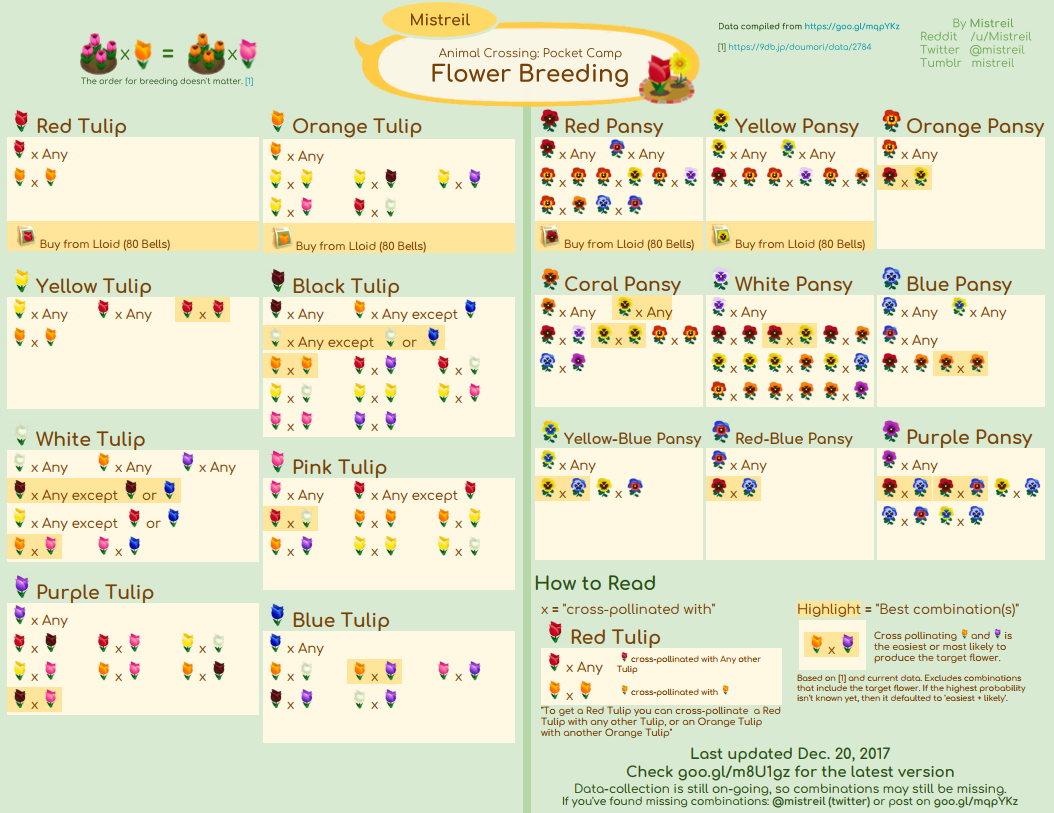 If you're unfamiliar with gardening, the process in Pocket Camp is simple enough. Players start by planting seeds purchased from Lloid. He has four basic flowers available for 80 bells each: red tulips, orange tulips, red pansies, and yellow pansies. After planting, players must keep their flowers watered until they bloom. Once they've bloomed, camp managers can choose to harvest a flower or cross-pollinate it.
Just like in a real-life garden, cross-pollenation is a trial-and-effort endeavor. Some crossbreeds can result in more than one type of flower, so there is an element of randomness involved. For the most part, though, flowers follow a predictable scheme.
The chart shows how to get black white, pink, purple, and blue tulips, as well as white, blue, yellow-blue, red-blue, and purple pansies. Created and maintained by r/ACPocketCamp user Mistreil, the reference chart comes alongside a guide detailing how cross-pollination's success chances work.
There are a few things to keep in mind with flower breeding in Animal Crossing: Pocket Camp. For one, cross-pollination doesn't always work, as there's a chance players will fail while trying to grow flowers. According to data gathered by the subreddit, some combinations have a higher chance to breed a flower than others. Mistreil has highlighted those pairings in yellow in the chart.
Original post by Ana Valens; update by Jen Diaz.