Destiny 2 Forsaken: Shayotet Partisan Wanted Bounty Location
Shayotet Partisan is a part of Destiny 2: Forsaken Weekly Bounties Challenges. At the start, you have to visit a certain location to find an NPC vendor from whom you can buy this bounty and start the challenge. The guide below is divided into multiple parts and includes a method to Unlock Shayotet Partisan, finding the Bounty Map Location, and visiting the actual place to hunt down the target.
Where To Find Shayotet Partisan Wanted Bounty
Go to Tangled Shore and find an NPC Vendor Spider to get the Bounty, pay 1 Ghost Fragment. If you are not having any then play some Public Events in the same location and return to the vendor to get Shayotet Partisan Wanted Bounty.
Where To Hunt Shayotet Partisan – Location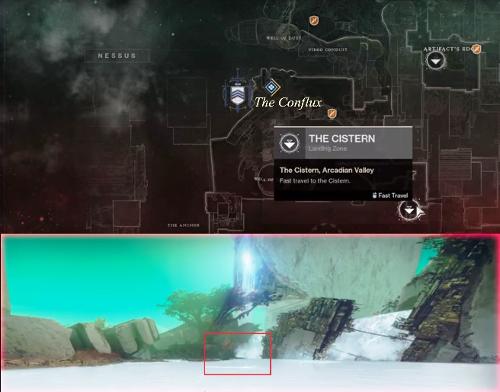 After getting the bounty open up the solar system map and go to Nessus. Fast travel to The Cistern and go to the lost sector called The Conflux where you will find the target. Refer the map screenshot image above, the marker is the place where you have to go. There is an underground tunnel on the left of a waterfall that comes after crossing a frozen river. Walk into the tunnel and kill your target.
The enemy will drop some legendary gear and you will earn some Glimmers. For more similar guides please visit our Destiny 2 Wiki Guide.