Nintendo Switch – How To Transfer Data Between Multiple Switch
When does the need to transfer data and users from one Nintendo Switch to another arrives? one example that I can provide is: you damage your Switch console accidentally and now it's beyond repair, and you purchased a new one. Transferring data from one Nintendo Switch to another can be tough ask if you are not that familiar with Settings and other options available. In this guide, we are going to show you How To Transfer Your Data And Users from one Nintendo Switch to another.
How To Transfer Data Between Multiple Nintendo Switch
Before you start the process of transferring data, keep the following things in mind:
The Data Transfer process might take some time for the data to transfer and it will depend on the amount of data stored. After the data transfer process is complete, you will be able to access the data on the Nintendo Switch you have transferred it. It won't be available on the source console. Screenshots and video won't be transferred.
Do not do the transfer if your firmware is lower than 4.0. Both the Nintendo Switch needs to be connected to the same Wifi network.
The old Nintendo Switch needs to have a Nintendo Account linked to it. Don't link your new Nintendo Switch with the same Nintendo Account that you have on the old Switch (i.e. the Nintendo Switch from which you want to transfer the data from). The process to connect the two Nintendo Switch for transferring data is provided below – there is no need to have a same Nintendo Account on the new Switch.
Setting Up Old Nintendo and New Switch For Data Transfer.
Note: Transferring Data start with the Old switch
Step 1: From your Nintendo Switch select System Settings from the Home Screen
Step 2: Then select users
Step 3: In the user's menu Select Transfer Your User and Save Data.
Step 4: Select Next.
Step 5: Select Source Console. It will identify that this is the console that you are transferring the data from.
Setting Up New Switch For Data Transfer:
Step 1: Select System Setting > Users
Step 2: From Users, Select Transfer your user and Save Data
Step 3: Select Next.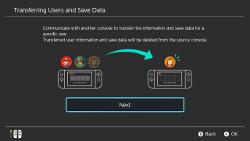 Step 4: Select target Console so it will identify the device you will transfer the data to.
Step 5: Select Sign in and put in your Sign in details and Select Next.
End the transfer on your Old Nintendo Switch.
Selecting Transfer will start the data transfer and select End after it is complete.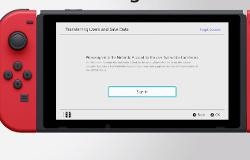 This is how you transfer your user and your data stored from one Nintendo Switch to another. Let us know in our comment section below if you have any doubts regarding the doubt regarding the process mention above.