Roblox Ghost Simulator codes (August 2023)
The easiest way to get Pets!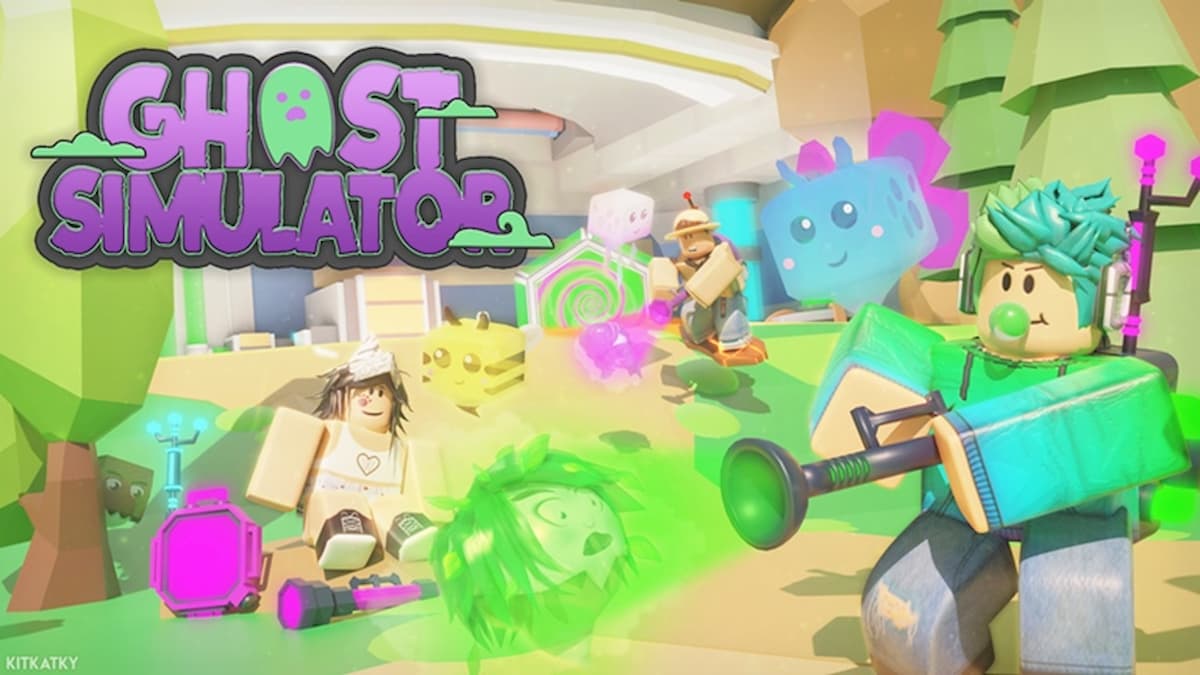 Last updated: September 25, 2023

We added a brand new code today!
Even though things go bump in the night, it doesn't mean those monsters have nothing to fear. In Roblox Ghost Simulator, the ghouls have taken over the world, and you have to help them move on to the next life. You'll need to use various equipment to meet the challenge, complete quests, and defeat bosses that spawn into that require groups of ghost hunters to take down.
All working Roblox Ghost Simulator codes
This list contains every code we believe is working in the game. Read on below to learn how to redeem codes for your account.
REMVISION — Reward: 1x Ghost Lootbag (New)
MAGNETICLUCK — Reward: Back Pack (New)
LOOTYLOOTY — Reward: Back Pack (New)
REMGUARD — Reward: Back Pack
OVERLOAD — Reward: Back Pack
MURICA — Reward: American Theme Skin

GUMPOWERED — Reward: Spiral Skin
OVER9000 — Reward: Overpack Loader
SPRINGFEELING — Reward: Faunascape
4YEARSYOUNG — Reward: Ghost TV
EGGSCEPTIONAL — Reward: Egg Weapon
EGG — Reward: Bear Pet
RABBITSEASON — Reward: Rabbit Skin
2LUCKY — Reward: Twinkling Luck
VAL3NT1N3 — Reward: Amore Amore
YEAR2K23 — Reward: Custard Class
DR1P — Reward: Peppermint Cat
GIFT — Reward: 500 Snowflakes

TREAT — Reward: 500 candy and bat pet
2NDROUTE — Reward: one Crate Key
CORN — Reward: Corn Board McCoard
BB500K — Reward: Blox Boy 500
DOORKEY — Reward: one Crate Key (must be in Roblox Game group)
LASTDAY — Reward: Pastel Fae pet
FIREFLY — Reward: Firefly Pet
R1FT — Reward: Purple Pegasus Pet
SPAC3 — Reward: Dave Pet
KINDHEART — Reward: Hoverboard heart
PLAY — Reward: Cosmic Hand Pet
Expired Codes
This list contains every code that we believe has expired. We'll add more codes to the list as we discover that they're no longer functional. You should count every code you've already used as expired because you can only use them once.
INARUSH — Reward: Weekend event item.
BASKET — Reward: Bunny pet, 350 Easter eggs (must be in Game Group)
NIGHTPUPPY — Reward: Hedgehog pet (must be in Game Group)
TREEHUGGER — Reward: Koala pet
PUGSARECOOL — Reward: Pug Pet (must be registered in the Bloxbyte Games Group)
1YEAR — Reward: One year bag with anniversary Pet and Hoverboard (must be registered in the Bloxbyte Games Group)
2YEARS — Reward: Godly Pet (must be registered in the Bloxbyte Games Group)
EXCITE — Reward: Excite
BACONRA1D — Reward: Stack O' Bacon
BOOSTED — Reward: Lucky Gem
SCARE — Reward: Possessed Pegasus
SUNROTEC — Reward: SPF-GS

SURFD — Reward: Flake Surfer hoverboard
VDAY22 — Reward: Toaster pet
EASTMAS — Reward: Santa skin
CORN — Reward: Corn board
Garlic — Reward: Garlicula pet
KINDHEARY
MERRY
CORN
BADBAD
XMASBEATS
L1STED
FALLSEND

LEAFPOWER
WEKNOW — Reward: Mushi Pet
TRAINER — Reward: One Crate Key
JET — Reward: Tri-Jet Hoverboard
SPIRAL — Reward: Trippy Pet
HEART — Reward: Giggles Pet
JOV3N — Reward: Dr. Dice Pet
JOURNAL — Reward: Victory Pet
PATTY — Reward: Lucky Boy Pet
CHANCE — Reward: One Crate Key
V1RTU4L — Reward: Grid Hoverboard
EGGHUNT — Reward: Spring Pegasus Pet

HOPHOP — Reward: One Crate Key
LEADER — Reward: Leader One Pet
BB100K (must be in BloxByte Games Group) — Reward: Blox Bytes Hoverboard
LUCK — Reward: One Crate Key
ITSCOMING — Reward: Butterboy Pet
RELIEF (must be in BloxByte Games Group) — Reward: Dr. Doctor Pet
HAPPY4TH — Reward: Firecracker Pet
VANITY — Reward: Vanity Hoverboard
CLASSIFIED — Reward: One Crate Key
JUNE — Reward: Flop Hoverboard
BIT — Reward: Bit Missile Hoverboard
SQUAD — Reward: Sports King Pet

Bubble — Reward: Gumball Pet
GUMGUM — Reward: One Basic Zoom Gum
SEA — Reward: Aqua Pegasus Skin
FISHIN (must be in BloxByte Games Group) — Reward: Ten Atlantis Keys
BB250K (must be in BloxByte Games Group) — Reward: Byte Pet
SHOCKER — Reward: Shocker Pet
BB500K (must be in BloxByte Games Group) — Reward: Bloxy Boy 500 Pet
HAUNTED — Reward: 350 Candy and Creepy Kreepy Cat
SOUL — Reward: Ten Soul Keys
GOBBLE (must be in BloxByte Games Group) — Reward: 250 Golden Turkey Legs
EPILOGUE — Reward: Royal Kreepy Cat
JOLLY — Reward: 300 Snowflakes

2020OVER (must be in BloxByte Games Group) — Reward: Overshot 2021 and Fireflight 2021
100M — Reward: Free Pet
WINTER — Reward: Free Starfly Pet
R3B1RTH (must be in BloxByte Games Group) — Reward: Star Striped Pegasus Pet
TOYS — Reward: Lava Java Pet
SH0P — Reward: T-Duck Pet
m3ta (must be in BloxByte Games Group) — Reward: Random Reward
SUMM3R — Reward: Snazzy Pegasus
BOSSRAID — Reward: Bloo Chonks
PUZZLE (must be in BloxByte Games Group) — Reward: Sorry Board
LIBERTY — Reward: Freedom
S1LLYBUNNY — Reward: One Crate Key

REMNANT — Reward: Sugardrop
UWURACER — Reward: Jinshi Hoverboard
2NDARC — Reward: Fallen Spirit
1STRANDO — Reward: 2 Boss Bait
BOOST — Reward: Hoverboard
SADGE — Reward: Sadge Pet
SUNPROTEC — Reward: SPF-GS
EXCITE!
BACONRA1D — Reward: Stack O' Bacon
BOOSTED — Reward: Boosted Lucky Gem
SCARE — Reward: Possessed Pegasus
EERIE — Reward: Pegasus Candy
TOX1N — Reward: Toxic Treats
LASTWEEK! — Reward: Arachna
How to redeem Roblox Ghost Simulator codes
Launch Roblox Ghost Simulator
Click on the Twitter icon in the top left-hand corner of the screen
Copy and paste in the code you want to redeem
Click the Redeem button
The reward will be automatically added to your account