Black Ops IIII Is Set In The Past? Black Ops IIII Logo Font Is Similar To The Original Black Ops
Activision and Treyarch have officially announced the name of this year's Call of Duty game, it's Call of Duty: Black Ops IIII (yes – as mentioned a few days ago, this year's Call of Duty is the next installment in Black Ops series and it won't follow the Roman numerals pattern). In addition to this, Activision also revealed the release date of Call of Duty: Black Ops IIII – it's October 12 for PC, PlayStation 4 and Xbox One. This will be the very first time in over a decade that a Call of Duty game will release in October rather than in November.
The only reason I can figure out behind this move of Treyarch and Activision – Rockstar's Red Dead Redemption 2 is scheduled to launch on October 28, and they don't want to have a direct competition with possibly the biggest release of 2018 and hence decided to go for a mid-October release.
That's all the information we have right now related to Call of Duty: Black Ops IIII. We expected Activision to announce Black Ops IIII for Nintendo Switch also, but nothing of that sort happened (neither at the recent Nintendo Direct).
In another news, an interesting debate has started on the official Logo of Call of Duty: Black Ops IIII. Reddit user "DX115FALCON" discovered that the font used for "Black Ops IIII" is similar to the one used for Black Ops 1. This same font was not used for Black Ops II and Black Ops III. Does this mean Black Ops IIII is going to be set in the past (and not in future as rumored on the internet, Black Ops I was set in the past) What do you guys think of this new discovery related to Black Ops IIII logo? Share your opinion with us in the comment section below.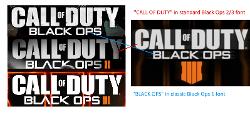 Watch Call of Duty: Black Ops IIII teaser trailer below.