Top 10 Most Popular Gaming Books on Audible 2023
We have put together a list of some of the best popular gaming related books on audible so far this year, we hope you love them.
We're all gamers, but even gamers love to sit down and enjoy a good book. Reading is an excellent way to wind down at the end of the day, and if you are a gamer who plays video games into the late hours of the night, sometimes it can be hard to get calm down enough to sleep. Something relaxing that many do before bed is read a good book, which also goes for reading a good audiobook. Here are some of the most popular gaming audiobooks that can be listened to on Amazon's Audible in 2023.
Related: Top 10 Gaming Books of 2023
The 10 Best Gaming Audiobook Books
Audiobooks are an easy way to read a book without actually having to do any reading. These are something that can even be listened to while gaming — just maybe not during the intense games where players need to hear everything but maybe some relaxing games like Minecraft. As stated above, these can also be listened to to help get some relaxation before bed. Let's get into the ones we are talking about today.
10. Renaissance, Assassin's Creed Book 1
Assassin's Creed, Renaissance by Oliver Bowden is a novel based on the famous video game that probably everyone has heard about at least once. This book follows Ezio Auditore as he goes on a quest looking for vengeance. He had some allies with them along the way, like Leonardo da Vinci and Niccolò Machiavelli. The book is based on the famous video game Assassin's Creed, with many more in the series after getting hooked on the first book.
9. Awaken Online
Awaken Online is a really cool story that hasn't seemed to be done many times before. The story follows a boy named Jason, who is ready to escape the reality of his life, so he visits the brand new Awaken Online virtual reality game. The description reads the interesting line, "In this game, he isn't the hero. There are no damsels to save. There are no bad guys to vanquish. In fact, he might just be the villain." By the cover, it gives off some cool Walking Dead vibes. However, this book might not be suitable for the faint of heart since it has a darker tone. Awaken Online is the first book in this Science Fiction & Fantasy series.
8. Ready Player One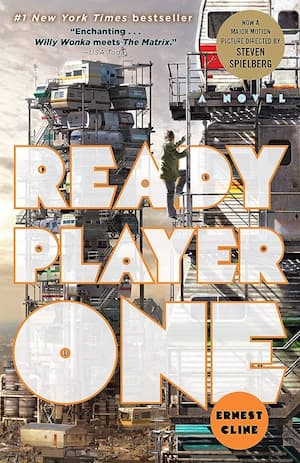 Next up is a fan favorite that probably many expected to be on this list, but it has a worthy spot. Ready Player One is a video game-based novel that also now has a live-action movie. This story takes place in 2045, but not in a pretty place like some might think. We follow Wade Watts, who is only really happy and feeling alive when he is connected to OASIS, a virtual world where a lot of humanity spends most of their time. Soon an adventure breaks out for readers to see and explore, as well as a sequel book called Ready Player Two.
7. Blood, Sweat, and Pixels
Blood, Sweat, and Pixels is a compelling book that covers what it is like to be a game developer and dives deep into what is considered "developer hell." The book dives into Diablo 3, Stardew Valley, The Witcher 3, Destiny, and many more that fans will find familiar or even their favorite game. This book gives a great look into the industry of developing video games and is a pleasant experience for any fan who wants to see what it is like from behind the wall.
6. Star Wars Battlefront Twilight Company
There are a handful of different Star Wars Battlefront games available on console and PC, some being made available via Game Pass, and this book takes place during the same time as the video games. Star Wars Battlefront Twilight Company was released before the video game Star Wars: Battlefront, and it tells an action-filled story adventure with a squad of soldiers who got caught in the middle of a war between the sides of good and evil. This audiobook on Audible will keep listeners on the edge of their seats.
5. Warcraft: Durotan
There are many different Warcraft books with events in it taking place after the video game that many know and love. This book follows the Forstwolf Clan, a clan that faced a harsh winter, and many of their kind didn't make it. Gul'dan, an outsider, comes to Frostfire Ridge telling those of new hunting lands, which opens up the story of the clan making the difficult decision to leave behind their territory and find this new land. Once gamers get hooked on this audiobook, they will be pleased to see there are many more Warcraft books to check out.
4. Raising the Game
Raising The Game tells the amazing story of how a man helped make a multi-billion-dollar video game industry possible. This story follows Jerry Lawson, born in Brooklyn and raised in Queens. This man led the team that soon invented The Fairchild Channel F, the first cartridge-based video game console. This is an Audible original story that tells a brilliant story about the struggle and how video games became what they are today.
3. God of War
God of War name will catch the eyes of many, especially as this was a big one to remember with the release of PlayStation 5 and the fantastic 7 minutes and 59 seconds long Christopher Judge speech at The Game Awards. This story follows Kratos, who many probably already know, and it is time for him to get his vengeance against the other gods. The journey will take them through many monsters and ugly worlds that he will have to survive alongside his son, Atreus. This is what they call a "startling reimagining" of God of War.
2. FarCry
Almost every gamer has probably heard of Far Cry video game franchise by now. Far Cry 6 story follows Antón Castillo, who was a political prisoner in his childhood days, and now he dreams of becoming just like his father, who was known as El Presidente, but then his father was killed, and they were imprisoned when the time of revolution happened. Now, a miracle drug seems to be the only thing helping him and his dreams stay above water and alive.
1. Spider-Man: Miles Morales
It is time for everyone's favorite friendly neighborhood Spider-Man to shine. This Miles Morales audiobook titled Wings of Fury is an official prequel to the video game, which can be played on the PlayStation 5. As usual, Spider-Man has a lot going on between protecting the neighborhood he loves, being a normal teenager, and figuring out how to deal with the loss of his father. On top of him questioning what it means to be a hero, Vulture has started attacking the city with his sidekick Starling, and it is time for Miles to protect his city once again.
Related: Is Hogwarts Legacy based on the books or the movies? Answered
These are some of the best audiobooks that gamers can check out from Audible today for free if they have an Amazon Audible subscription. Or, these can be purchased through the website and kept forever in the Amazon account. We hope you love these books as much as other gamers do.