Activate Wormhole Digger At Singularity – Metal Gear Survive Walkthrough Chapter 9
In Chapter 8: Start Wormhole Digger, you were able to extract the Wormhole Digger at the base, but due to lack of energy, it failed to perform. AI Vigil recommended to use a new energy source: Iris Energy to use the digger. In Chapter 9 AI Virgil will give you a location where you have to set up a Wormhole Digger and protect it from the attacks of Wanderers. There will be three waves of attacks. So before moving, you must fill up your inventories.
Place and activate wormhole digger at singularity Walkthrough
After getting the location from the base which is pretty far away, you will have to start your journey towards the undiscovered location. As usual before starting, do fill your inventory, medicines, etc. Try using the nearest Wormhole Transporter to save your time and energy. Still, you will have to walk long if you had not discovered many transporters in your path. One more problem is the Lord of the Dust, can be in your path, you have to avoid the creature. Next, there are Wolfs and Wanderers also.
It is necessary to locate Wormhole Transporters in the map around. This will be very helpful and you might spot them near facilities. Once it is activated you always have a chance to return to base, to empty your inventories, craft and repair your weapons. Also if you had some Skill points left with you, you can upgrade that and progress ahead. Fill up the defense units in your inventory you will need them ahead. Add Sandbag Footholds on priority. Once you reach near to the point you will spot a lot of Wanderer's in the area. You will reach an area with walls and wooden fences around. Before using the digger, you will have to first clear the Wanderer's in the area. Another problem is the Lord of the Dust, the massive creature who is wandering around.
Wait for some time, and then place the digger on the yellow circle. Next is Salvage Mission, where you will be facing waves of enemies from different directions. Now the best way to win this is to place your defense units smartly to block their access so that they won't destroy the digger. You had played the same mission when Wormhole Digger was activated the Base Camp. There will be around 3 waves in a repeated cycle, you will get a small window between the attacks. Look on the mini-map on right end corner of the screen, you will get a prediction of enemy direction. Depending on that place the units and plan your attacks. After placing the digger you will see lines in the mini map that will give you a glimpse of enemy direction who will be approaching the digger.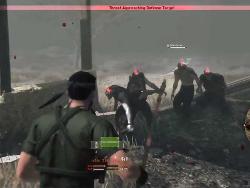 Defend the wormhole Digger Walkthrough
You can block the enemies path by adding Sandbag Footholds that act as a good defense against Wanderer's. Fences can be broken easily, so try adding multiple layers of blocks. You will have to keep running around and locate from where the enemy is the approach. They will spawn randomly from a different direction. After the Wormhole Digger is activated you will have to defend it for 1.28 minutes. This is the first wave of attack. Along with fighting, you will have to keep a watch on your oxygen level also. You will get 29 Seconds time after the first wave to prepare yourself. So recheck the defense, consume food and fill up your oxygen tank. The second wave will be of 02:48 minutes. But this time the direction of approaching enemy will be less. So place the defenses and wait back. Once the Wanderer's approach the target those who are trying to destroy the digger, there won't be much following you. Again you will get a 29 second time to prepare. The final and 3rd wave will be of 03:59 minutes.
Place a mine if you have in your inventory to the approaching enemies path. This will give you some help, if you had no defense units left, then you will need to attack them close combat. Your upgraded skills will help you a lot here. You can take down multiple enemies instantly with them. You will also face a bomber in the final wave. It blasts so you can use it for your benefit. Like before any wanderer reaches the red circle of a digger, lure them towards the bomber and attack it. It will blast kill all those who are around. Once the objective is over, through the nearest Wormhole Transporter return to the base camp.
Once you return to the base camp, the chapter is over, AI Virgil will tell you that the obtained energy is insufficient to use. After syncing your droid with the AI at the base camp you will have to investigate a radio transmission in Chapter 10. You can read Metal Gear Survive Wiki guide for more updates on the game.