Far Cry Primal Walkthrough Part 12 – Fly like a Bird and Strong Like a Rock
Now that you have seen the Daughter of the Sun, Batari, it's time to get stronger so that you can face her next time you meet. She tends to take all the Wenja under her power and use them to build her Fort. We recommend upgrading your skills from the skill tree before getting to the next story mission. For now, let's help Urki to learn how to fly and then search Izila camp to get some Rocks for Urki.
Fly like a Bird
Urki is one of the key characters in Wenja Tribe and he thinks he can fly like a Bird. You must help him make feathers so that he can fly. This quest has one of the Easter Eggs in the game.
Hunt and Skin Animal for Urki
You must head towards the marked location to hunt and get those animals skin for Urki and help him with making Feathers. You need skins of Snow Bird, Tortoise, Raven, and Bitefish. Start your hunt with the tamed beast. Once you are done hunting get the skins to Urki.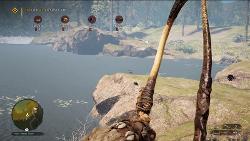 Go Watch Urki Jump
Once you hand over the skins to Urki he will thank you for all the hunt and then ask you to go to the marked location and watch his Crazy Flying. You will notice the Leap of Faith from Assassin's Creed series(Easter Egg). Thus Completing the Mission.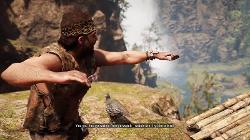 Strong Like a Rock
After the crazy jump, Urki fights some of the Udam and get injured. He asks you to bring some Rocks from the Izila camp to save him from the Spears of Udams. So head to the Marked Izila camp location and start searching for rocks.
Find Special Urki Rocks
Once you get to the marked location try throwing the Berserk Shard near the crowd and then try to invade the Camp. This will make it easy for you to take majority at once and then with your tamed beast you can easily distract them while you search for the Rock.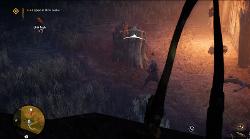 Bring the Rocks to Urki then Throw Spear at him
Now that you have got all the Rocks from the Izila camp head straight to Urki and give the Rocks to him. His will take a few while then ask you to throw spears at his chest to test the Rock Armor, but you end up injuring him. Thus completing the mission and the Walkthrough.