Who are the voice actors in Neon White? Full voice cast
A surprisingly high profile list.
Considering its small size, Neon White deploys some surprisingly prolific and well-known voice actors to portray its colorful (literally) cast of characters. This is especially impactful because the game isn't your average 3D platformer. It includes elements of visual novels and relationship sims, meaning there's actually quite a bit of significant dialogue. And as a nice treat, the vast majority of this is fully voiced.
Bruce Barker (The Believers)
Bruce Barker voices the pretentious Believers you find around Heaven. After spending his early career as a DJ, Barker has shifted into voiceover work. Although he appears primarily in commercials, he also has some videogame credits, including Fallout 76 and Red Dead Redemption 2.
Related: Beginner's guide to Neon White – Tips and tricks
Steve Blum (Neon White)
Steve Blum is the voice of main character and edgy amnesiac Neon White. He is a prolific voice actor who has been in too many things to list here. His videogame credits range from Mass Effect to Marvel's Avengers to Fortnite. He is perhaps most famous for his work as Spike Spiegel in the English dub of Cowboy Bebop.
SungWon Cho (Mikey)
SungWon Cho is the voice of the grumpy angel Mikey. He is a voice actor and well-known YouTuber whose work covers many videogames, including Yakuza: Like a Dragon and Borderlands 3. He's also provided voices in quite a few English anime dubs, such as Vinland Saga and Ranking of Kings.
Ian Jones-Quartey (Neon Yellow)
Ian Jones-Quartey is the voice of friendly himbo Neon Yellow. He is most well known for his roles as a cartoon voice actor and writer. His credits include Steven Universe and OK K.O.!
Ben Lepley (Neon Green)
Ben Lepley is the voice of the intimidating Neon Green. He is another prolific voice actor with an extensive list of roles in both videogames and anime. Some of his biggest projects include Lost Ark, Final Fantasy VII: Remake, Fire Emblem: Three Houses, Sword Art Online, and One Punch Man.
Courtney Lin (Neon Violet)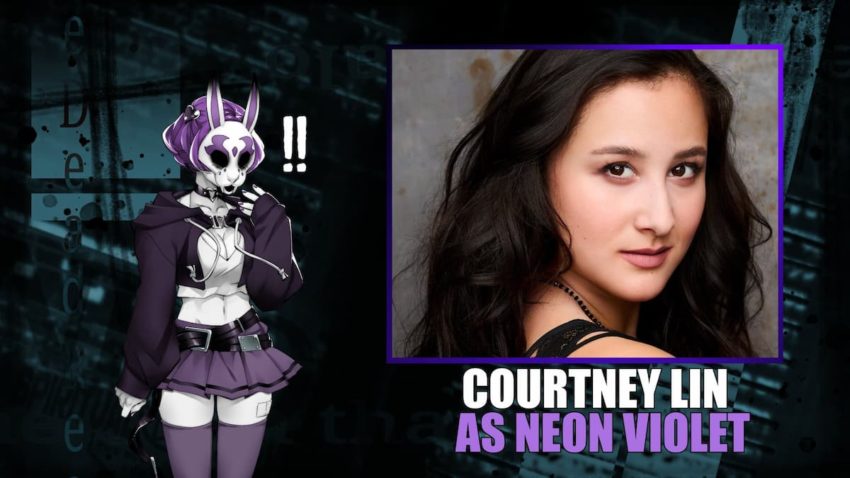 Courtney Lin is the voice of the slightly unstable Neon Violet. Her credits include several videogames, including Triangle Strategy and Genshin Impact.
Alicyn Packard (Neon Red)
Alicyn Packard is the voice of the negging sniper Neon Red. She is a prolific voice actor with roles that range from videogames to television and movies. Her videogame work includes numerous big titles like World of Warcraft, Ratchet and Clank: Rift Apart, and The Outer Worlds.
Zeno Robinson (Raz)
Zena Robinson is the voice of the bartending angel Raz. He is a prolific voiceover actor with credits in videogames, television, and movies. He has appeared in quite a few notable games, including Horizon Forbidden West and Crash Bandicoot 4: It's About Time.
Salli Saffioti (Gabby)
Salli Saffioti is the voice of sassy front desk angel Gabby. She has appeared in a variety of both voiceover and live-action roles throughout her career, including Watchmen and ER. Her videogame roles include Resident Evil 4, World of Warcraft, and Diablo III, among many others.