Tomb Raider Dev Who Called The Last of Us: Part II Gameplay Fake Issues Clarification
The first gameplay of The Last of Us: Part II was showcased at PlayStation E3 2018 Media Briefing. In my opinion, it was one of the best gameplay demos I have seen in my life so far (yes - I am rating this one higher than the Uncharted 4 gameplay demo that was showcased at E3 2015). The critics and fans reception of the The Last of Us: Part II E3 2018 demo was positive as well, however, there is on person in the world who seems to have not liked it and went ahead to call it a "FAKE", David Anfossi - Head of Studio - Eidos Montreal (the studio behind upcoming Tomb Raider game).
Naughty Dog animator Jonathan Cooper shared the following screenshot on his Twitter Timeline. It clearly shows David Anfossi jumping into a The Last of Us: Part II gameplay reveal thread discussion and calling the gameplay FAKE. When Gregory Szriftgiser said: "Naughty Dog = Top of the animation game and action pacing #TheLastofUsPartII", David Anfossi replied: "and FAKE".
Sensing the trouble he has got into, Anfossi deleted the tweet and then apologized to the Naughty Dog and their fans.
"Hi Naughty Dog fans, Please don't be tough on me, just bad wording from a french speaking person. Always been a big fan of Uncharted and Last of Us games; played all of them and Last of Us 2 is on my list. And what Naughty Dog does is a ref to me. Sorry for this situation…"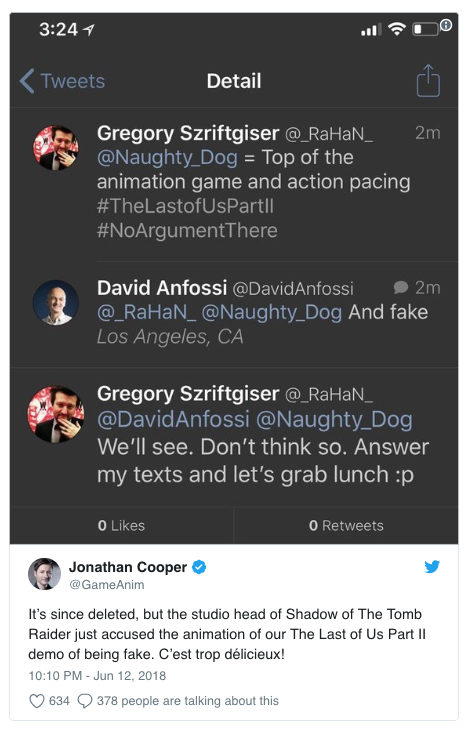 In my opinion, such word should not have come out from the Head of the Studio even if it was intended to be a joke (but it doesn't look like this was the case in this case). What do you guys think? Share your opinion with us in the comment section below.