Rumor: EA Play 2018 Banner Reportedly Leaks, Features Battlefield V
A new supposed EA Play 2018 leak comes complete with a reference to Battlefield V, where the next Battlefield experience is officially being revealed in June, just a few days before this year's E3 finally kicks off.
The leak features an EA Play 2018 banner, stating correctly the event is set to start in Hollywood on June 9, with an end already set on June 11. On the right side of the banner, you can find the supposed logo of Battlefield V.
It's a quite blurry pic, and this is the first signal we usually have when it comes to fake images. Anyway, we think this is worth to post as the game is most probably set to be named Battlefield V and the final logo should actually be like this.
At this stage, we don't know precisely what "V" stands for. According to previous rumors, the game is reported to be set in World War II, following the style of the previous iteration Battlefield 1 both in gameplay and design.
Anyway, there are also rumors around of a possible involvement of the war in Vietnam, and this "V" could likely stand for "Vietnam" too and not only to the fact this is indeed the fifth game in the numbered Battlefield franchise.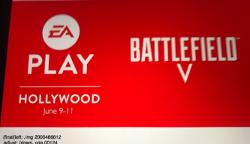 I would rule this possibility out, as, in my opinion, it's much simpler. On top of that, "V" could also mean "Victory", which is what the allied forces finally came to during the bloody World War II.
Battlefield V is likely coming this fall to PC, PS4, and Xbox One.