Battlefield V Open Beta Will End On September 11, PS Plus Subscription Needed
Yesterday, Electronic Arts and DICE announced that the Battlefield V release date has been pushed forward to November 20 as development team few extra weeks time to make some improvements to the "core gameplay" and polish the game based on the Open Beta feedbacks from the Battlefield community. The good news was that the dates for the Open Beta remain unchanged – it starts on September 6 for all. The Open Beta will be available on September 4 to those who pre-order the game or who is a subscriber to either EA Access, Origin Access, Origin Access Premier.
DICE officially announced these dates via game's official website, but no updates were provided on the Open Beta End Date and Time, and other requirements. Thankfully, we finally have an update on it, not officially from DICE or EA, but from a user "Greensightgamer" on BFV subreddit.
Greensightgamer shared the following screenshot (PlayStation Store) on the BFV subreddit a few hours ago. It carries an update on the Battlefield V Open Beta End Date and Time, maps and modes that will be playable, and other requirements.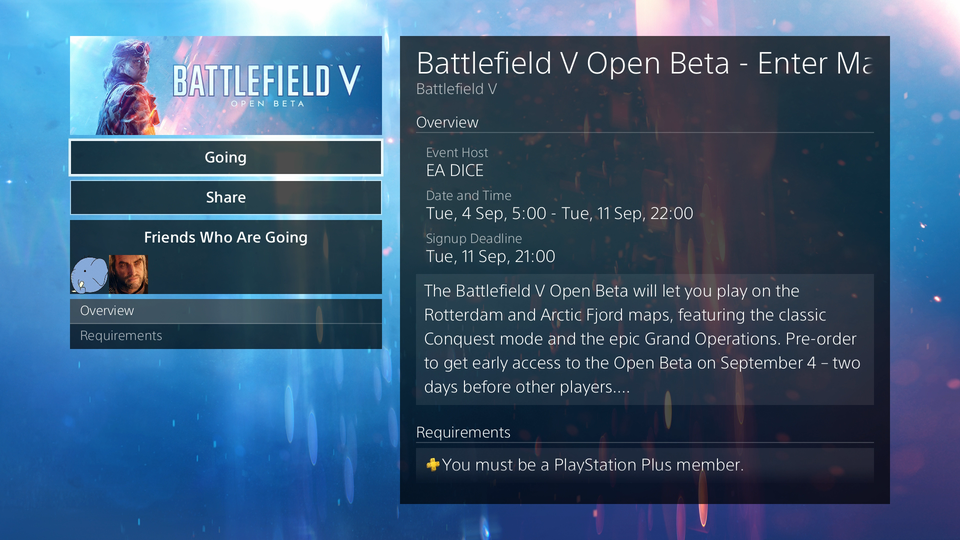 September 11, 22:00 BST (which comes to 5 PM EST) is the end date and time of Battlefield V Open Beta, and PlayStation Plus subscription is needed to get access to it. Those who are looking forward to playing Open Beta on Xbox One, please note that there are chances (I am 100% sure) that Xbox Live Gold subscription is needed to play it.
Here's a short rundown on what multiplayer maps and modes you will get access to in Battlefield V Open Beta:
Players can jump into the up 64-player Conquest mode on the Rotterdam map, set in the embattled Holland city, or the Arctic Fjord map, set in icy Narvik, Norway. In Conquest, you must battle for control of key locations on a massive multiplayer map, using the new Fortifications, towable weaponry, and Squad Reinforcements system.
Two "days" of Grand Operations are also available to players in the Open Beta. In this modular narrative experience inspired by historical events, each day is represented by a round of play, and player actions have a direct impact on the next round. Up to 64 players can deploy in the Airborne and Breakthrough modes on the Arctic Fjord map.