Bungie has detailed a road map for Destiny 2's future in 2018, including a new expansion in May
Bungie has revealed a detailed visual road map for Destiny 2's updates over the next few months of 2018, keeping its promise to be more open and communicative with its community,
With update 1.1.2 out in the wild on Tuesday, Bungie will now look to a new update on Feb. 27. This update will focus on Strikes and social aspects of the game, like Nightfall scoring and showing Fireteam members on the Destination map.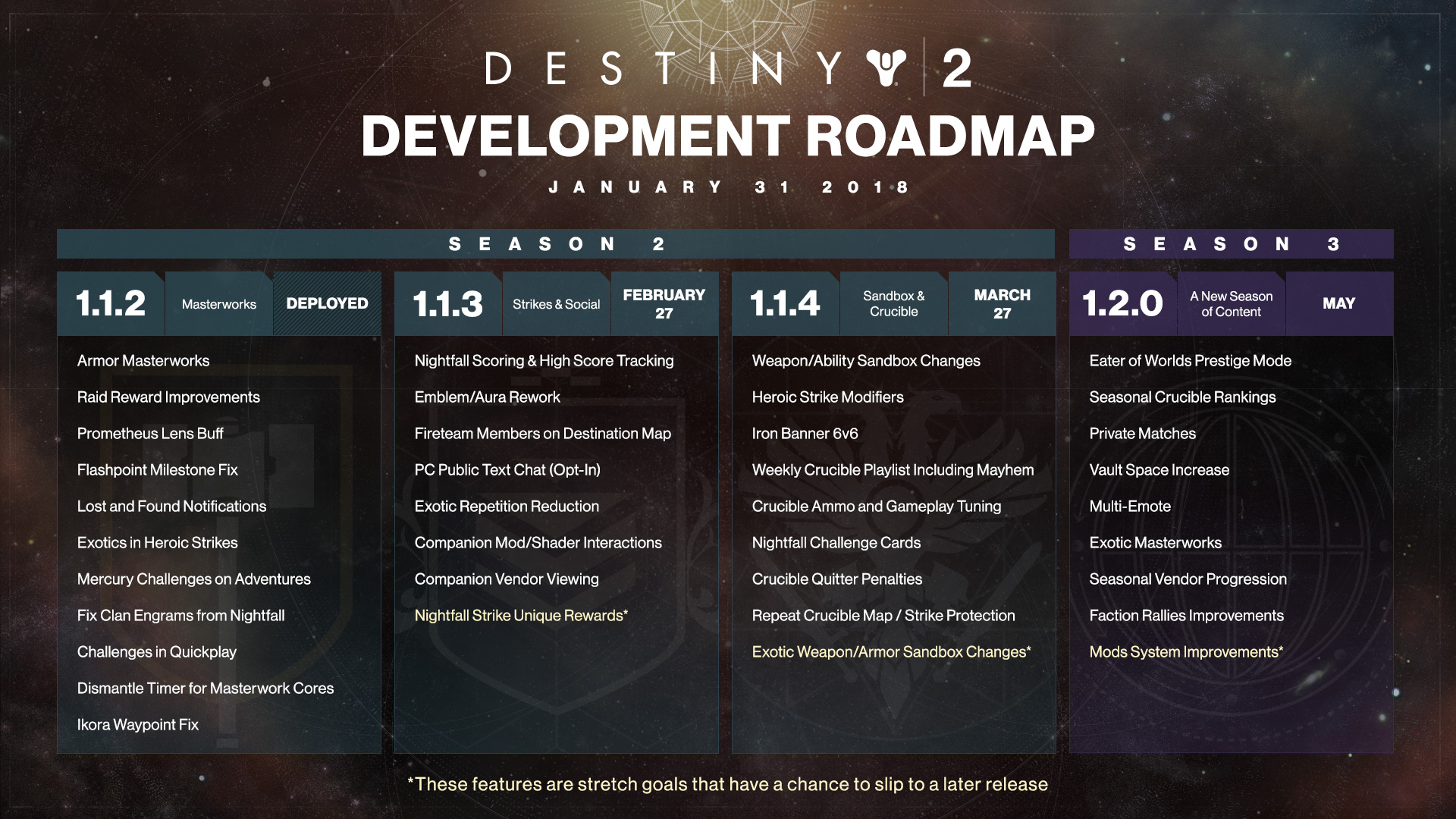 Update 1.1.4 is scheduled a month after that, on March 27. This update focuses on the Crucible and Sandbox, such as adding six vs. six Iron Banner, weapon and ability changes, Heroic Strike modifiers, and Crucible ammo and gameplay tunning.
The big one is 1.2 in May, which brings a new season of content, and a slew of quality of life changes. These include a Prestige mode for the Eater of Worlds Raid Lair, seasonal Crucible rankings, private matches, and increase in vault space, Exotic masterworks, and more.
As for what lies beyond, game director Chris Barrett tweeted late Wednesday night that the game's second expansion would indeed be coming in May alongside the launch of Season 3.
A previous leak suggested that the expansion would be called "Gods of Mars" and release some time in March.
"Beginning tomorrow, and in the coming weeks, we'll dive into details on the features outlined above, featuring screenshots or developer commentary," said Barrett on Bungie's blog. "If this forecast changes, we'll share out a new version of it, with new dates and expectations. We know you have new questions about everything you've just read, and we look forward to answering them."
The road to redemption for Bungie and Destiny 2 is a long and winding one, but this road map is definitely a good start to that journey.