Ellie Actress Debunks The Last of Us Part II February 2020 Release Date Rumor
A few days ago, we reported about Ashley Johnson mistakingly dropping a hint about a The Last of Us Part II February 2020 release window. That was rather believable if you consider previous rumors from Kotaku's Jason Schreier also pointed at the same window next year.
However, Johnson had returned on the topic on Instagram and shared that the 'hint' she was about to give in her interview before she got interrupted was merely a joke about the title releasing on February 31 or October 32, dates that don't exist if you're searching for them on your calendar.
"I've been saying February 31st and October 32nd FOR YEARS and everyone is acting like it's real," the actress behind Ellie told a fan on Instagram. "I stand behind those dates because they're DEFINITELY REAL."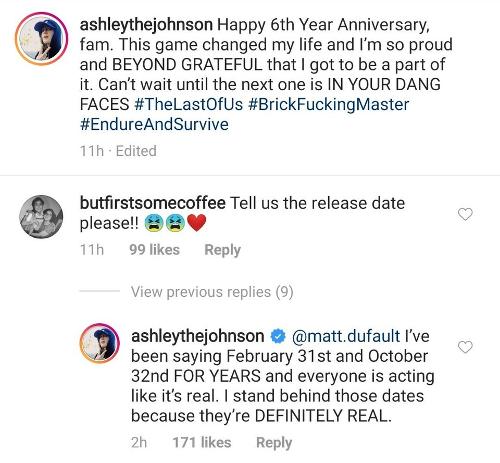 Well, all we can say about the reply is that it was fun to read, and we comprehend how frustrating it is when you say something and your words are scavenged into to learn details that don't exist at all. It must be stressful to always have people around you asking 'when is it releasing?' and then desperately looking into your answers for some details.
The game's out when it's ready, we'd say, and it won't take much longer now. It's been in the making for quite a long while now, and we're very close to the release, whether it is the first or the second half of 2020. In the meantime, enjoy other PS4 titles on the way, such as the much-anticipated Death Stranding on November 8, 2019.