Epic Games talks about Fortnite: Battle Royale's updated map, which is now live
Fortnite: Battle Royale's 2.2 update is now live, and with it comes a massive overhaul to the game's island map, including five new named points of interest.
The additions effectively make the map bigger, with more places to land, more places to loot, and more places to visit throughout the course of a match.
Epic Games opened up about the changes to the map in a blog post, talking about what was added and why they were added, and where.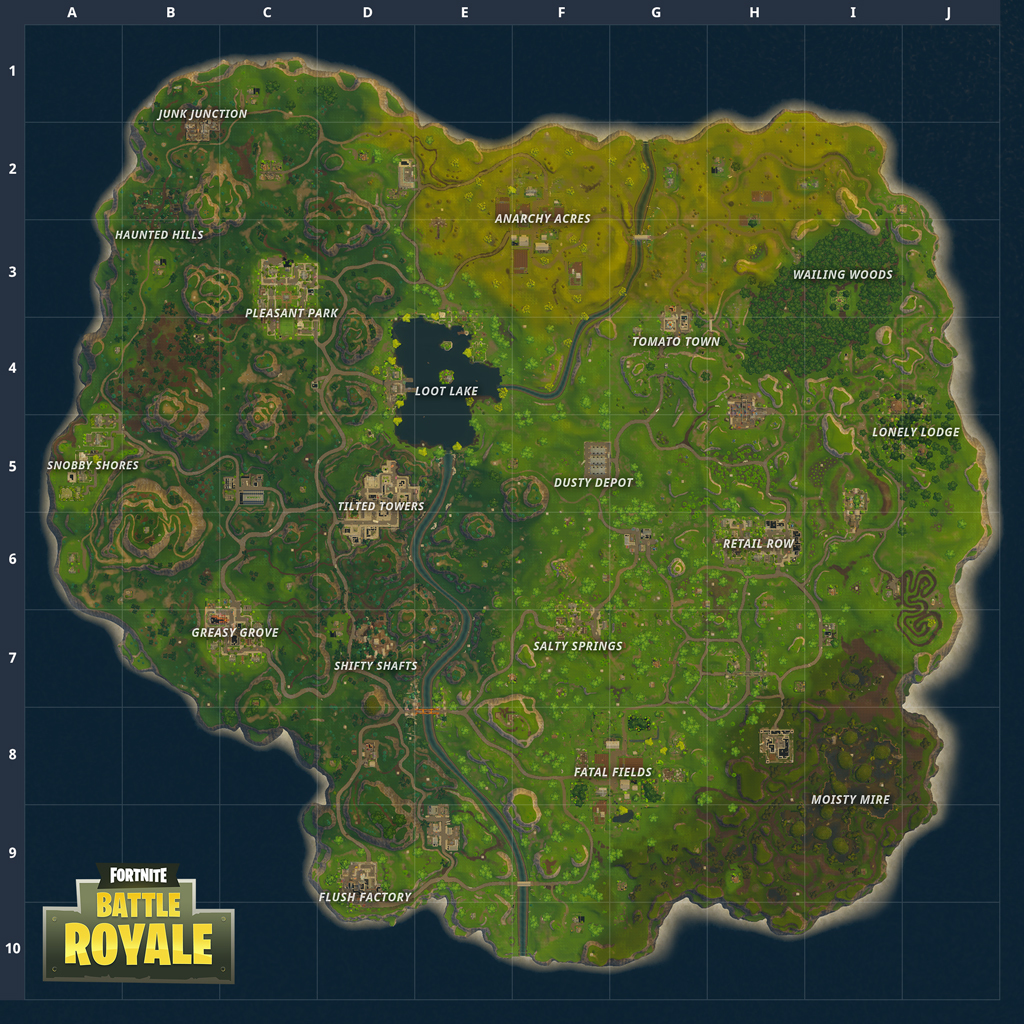 "One of the primary things we identified needed improvement was the density of the points of interests on the western side of the map," said lead level designer David Spalinski. "The density on the eastern side has offered a good pacing for loot, traversal, and combat engagement frequency, so we wanted to bring some of that to the western side. As a result, many new POIs have been added west of the river, each with their own identity."
New locations on the west side of the map include Junk Junction, Haunted Hills, Snobby Shores, Tilted Towers, and Shifty Shafts.
"Separate from the new POIs, we also wanted to add visual variety to larger sections of the map," said senior level designer Stuart Fitzsimmons. "To accomplish this, the map is now divided into four biomes. The grassland has a similar look to what you've come to expect from the map until now, but the swamp, farmland, and mountain areas bring their own visual identity. This is mostly done with changes in color tones evident on the terrain, as well as different looking trees & vegetation. To accomplish this, we reworked the core of how the terrain is computed for display, making it more flexible in order to add these biomes. Beyond adding visual variety, the idea behind this was to allow players to associate where they are on the island with the look of the environment surrounding them. You'll be able to easily spot these biomes from the battle bus or when bringing up the map."
Most of the map's grass is now darker than before, with extensions to the swamp by Moisty Mire and the farmlands near Anarchy Acres. Altogether, the changes make for a really interesting new look in-game.
Fortnite: Battle Royale is free-to-play on PC, PlayStation 4, and Xbox One.