Battle Royale Starter Pack bundle reportedly leaked in Fortnite's store
A new V-buck bundle will reportedly soon become available in Fortnite's store.
According to Reddit user "dat_bandit", he spotted the new Battle Royale Starter Pack in the in-game shop immediately following the daily reset of available items.
The player couldn't buy the bundle, and it was gone when he next reset his game, but he did manage to grab some screenshots of it before it disappeared.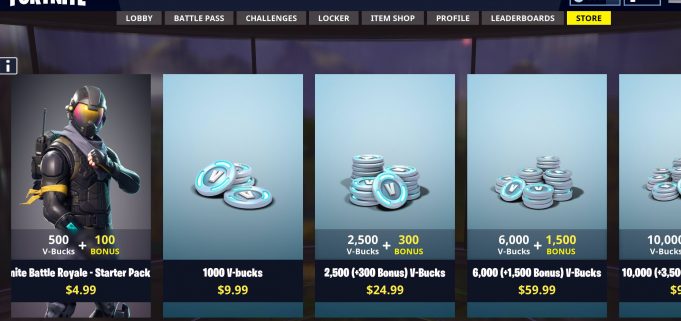 The pack includes 600 V-bucks and a skin set for $4.99. That's better value than the current cheapest V-buck bundle, where 1,000 V-bucks are on sale for $9.99. It's also slightly better value per V-buck than the 2,800 bundle for $24.99—though the Starter Pack will likely be a one-off purchase.
Not only does the bundle include a good amount of V-bucks, it also includes a new skin and back bling.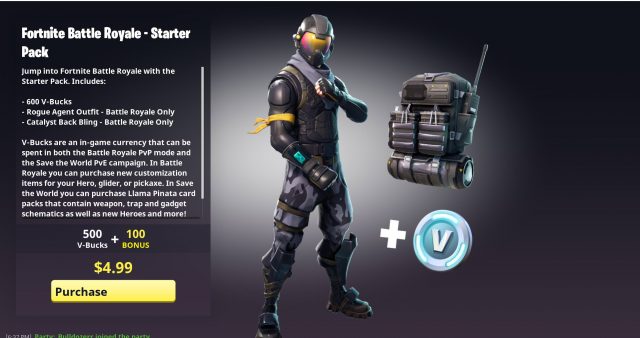 The Rogue Agent outfit was part of a series of skins datamined from the latest patch last week. The Rex outfit, and the three emotes found, have all been available in the store in recent days. The outfit also comes with a Catalyst back bling, which can be worn with any skin.
There's no information on when this will become available, and it hasn't been officially announced yet. But given its appearance today, it likely won't be far away.