Fortnite: Battle Royale's Starter Pack could be coming tomorrow
A pretty sweet deal is coming this week for Fortnite: Battle Royale players, in the form of a Starter Pack that packages a skin and some V-Bucks for a low price.
The Starter Pack previously leaked about three weeks ago, but a new finding on Reddit makes it seem like the content will become available starting tomorrow, March 27.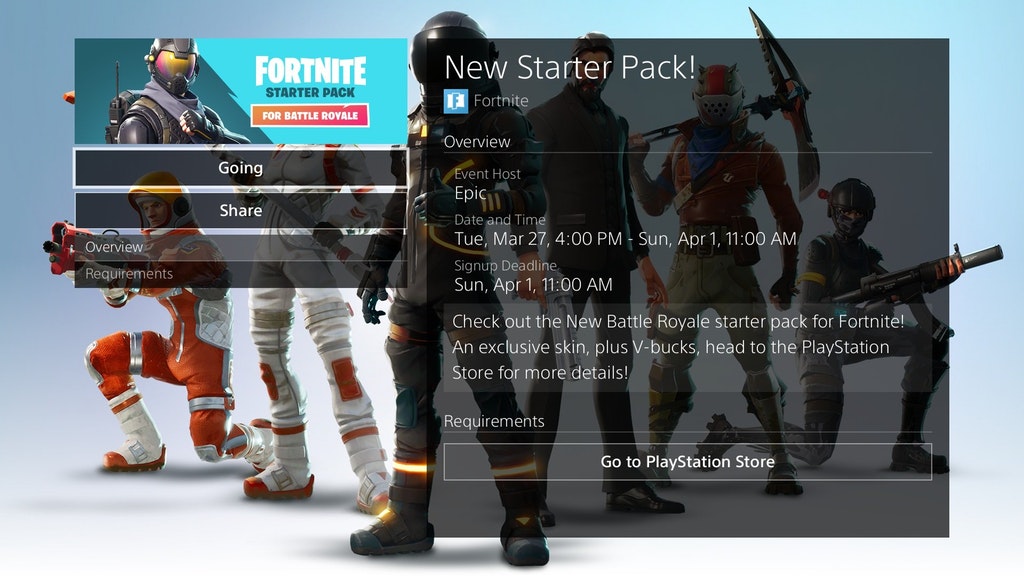 The image, found by Source10 on Reddit, shows a PlayStation 4 event for Fortnite: Battle Royale advertising the Starter Pack. According to the image, the pack will be available from March 27 to April 1.
According to the previous leak, the Starter Pack contains both the Rogue Agent outfit and Catalyst back bling, as well as 600 V-Bucks. This is a good deal in itself considering skins usually run anywhere from 500 to 2,000 V-Bucks on their own, plus you get additional V-Bucks with it, all for the prize of just $4.99.
The deal pays for itself on the V-Bucks alone, as $1 equates to 100 V-Bucks. It seems like a no-brainer and will undoubtedly be very popular among players. Get used to seeing the Rogue Agent skin in-game if this deal comes to fruition this week or any time soon.
If this event posting is to be trusted, official details about the Starter Pack should be expected very soon.