Fortnite has now become the most watched and most streamed game on Twitch
Fortnite: Battle Royale's explosive popularity has translated in Twitch viewership in a big way, according to Twitch stats and analysis web site SullyGnome.
Over the last two weeks alone, Fortnite has been watched for a combined 4,882 years and streamed for 246 years worth of live content. As far as spectating, that's almost twice as more than fellow battle royale game PlayerUnknown's Battlegrounds.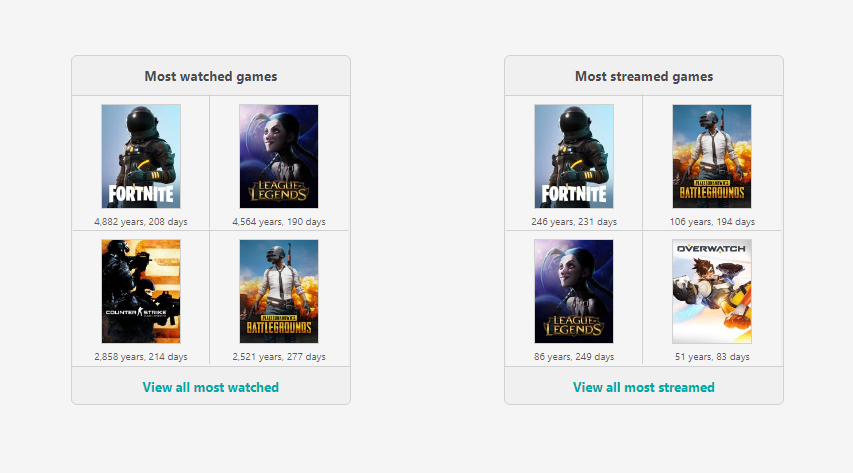 SullyGnome lets you sort Twitch stats by numerous intervals, such as three, seven, 14, 30, and 90 days, all the way up to a full year. Over the last two weeks, Fortnite has reigned by a pretty decent margin, especially when it comes to streaming. But it goes further than that.
Over the past 30 days, Fortnite was second in most watched games only to League of Legends. And in the past 90 days, it is still the most streamed game with 892 years worth of content vs. PUBG in second place with 726 years.
Going back all the way to Sep. 6, 2017, Fortnite is still a close second to PUBG in the most streamed category, which is very impressive considering the Battle Royale mode only released towards the end of that month.
What this all really means is that Fortnite is on the rise, and there's really no signs of it slowing down any time soon. While 2017 was largely PUBG's year, it looks like 2018 is the year of the victory royale.