Kingdom Hearts 3 Releasing In November According To Target Listing
Kingdom Hearts 3 is upcoming action role-playing coming this year on PS4 and Xbox One. The game release date is yet not announced, but it looks Target one of the largest discount store retailer has just leaked the official release date. According to the listing shared by the online store, Kingdom Hearts 3 will be hitting the streets on November 1, 2018.
You can see the date in the screenshot below, and to confirm you can click on the source link at the end of this news. The link will take you to the listing page of Kingdom Hearts 3, in about this item section click on show more and you can see the release date. This can be possibly a rumor or a typo error. Officially there is no info about the release date on the game's website.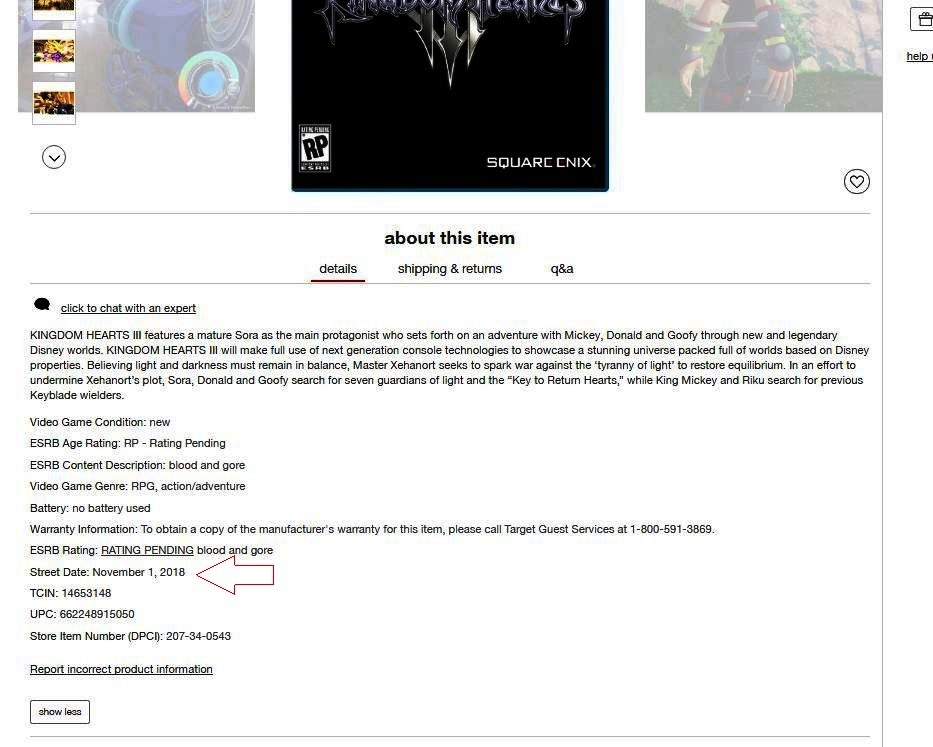 A bit info about the game Kingdom Hearts 3 will feature mature Sora who will be the main character of the game, joined by popular Disney cartoon character Mickey, Donald and Goofy. A team of 5 players can play together. Similar to its predecessor the gameplay will have some borrowed elements. Talking about the new gameplay elements of Kingdom Hearts 3 it will have new enemies, traversal elements like wall running, jumping, summons, keyblade transformation, team attacks, etc.
New edition of Kingdom Hearts series looks pretty amazing but there is quite a long wait time, it is almost the end of this year when the game will finally be available, we not taking this as a fixed date, there are chances that in between the makers could possibly announce a final release date.
Source: Target