Death Stranding Looks To Be In A Testing Phase Right Now
We're quite used to Hideo Kojima's teasers, and we actually love them (when it comes to Death Stranding teaser, Kojima is beating his own benchmarks with each new trailer). Couple weeks ago he started offering few of them not only on Twitter anymore but on Instagram as well and from the social network based on pictures comes a pretty interesting shot. In the photo, which you can see below, Kojima shows a PlayStation 4 console and a DualShock 4 controller. While a bit generic, the pic is apparently suggesting the Japanese game designer and director is playing something at this moment.
Considering he is developing all day and night long the upcoming PS4 exclusive Death Stranding, it looks like he could be playing the game right away. This means it could be in a testing phase and could be already complete in some of its most fundamental components.
Now, let's take a look at the hashtags, among which we can find "#actiongame". Kojima has never specifically mentioned the genre Death Stranding will belong to, but such a hashtag allows us to have a better look into the matter.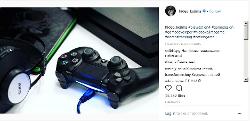 It seems it'll be more action-ey in comparison with previous Metal Gear entries, even though The Phantom Pain was a bit distant from the linear, stealth component which made the series popular back in the days. On the other hand, it is also seemingly providing us with a hint about the possible size of the game, that could be smaller than MGSV and more focused on action. Death Stranding still hasn't a release date attached, but it appears to be set for a 2019 launch window.