New Linkedin Evidence Hints Metroid Prime 4 Will Have Online Multiplayer
The next installment in Metroid video game series, Metroid Prime 4 is in development for Nintendo Switch. The studio that is handling the development work is Bandai Namco Singapore, according to the details revealed by Credible YouTuber Doctre81 (Doctre81 discovered this information after going through a Linkedin profile of a Bandai Namco developer). Our friend at Eurogamer contacted their sources at Bandai Namco and they received a positive response that Bandai Namco Singapore is indeed working on a Metroid Prime 4, but the source provided one additional information: the project will be moved to the Bandai Namco Singapore Studio to Bandai Namco's main studio in Japan.
Eurogamer updated their story with the message: "Since publication I've heard Bandai Namco's Japan Studio is also working on the project, with the intention it will now take the lead on its development while Singapore moves to focus on another Switch game."
Doctre81 decided to dig a bit deeper to find more evidence to the claim that the Metroid Prime 4 development is going to be shifted from Singapore to Tokyo Studio and guess what he came across a new Linkedin Profile of a "Senior Online Programmer" at Bandai Namco Studios. The latest post of this developer which was posted about a month ago reads: "Still working with the Singapore Studio, but physically relocated to the main office in Tokyo to work on other exciting projects too."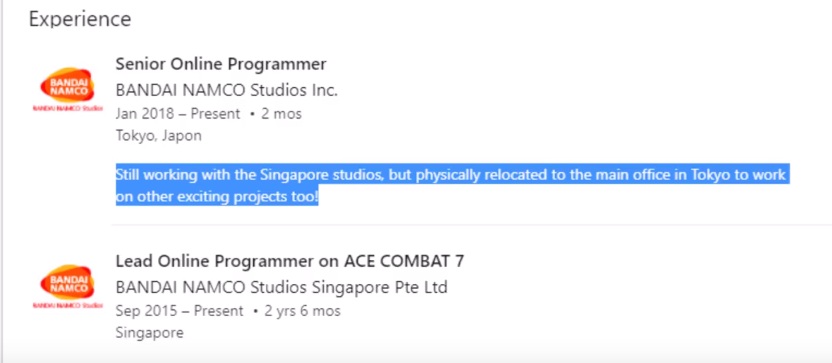 This clearly means that the higher authority at Bandai Namco is not only moving the Metroid Prime 4 project from Singapore Studio to Tokyo, but they are moving a lot of programmers from Singapore to Tokyo so that they still continue to work on the game.
Another interesting thing to note in the Linkedin profile of this developer: he is also working on Ace Combat 7 as Lead Online Programmer. Does this mean Metroid Prime 4 will have some sort of online multiplayer? This is what Doctre81 thinks. You can check out the screenshot of the Linkedin profile below along with the Doctre81's video on it.