MLB The Show 18's Road to the Show mode is getting a lot of improvements
With the release of MLB The Show 18 just around the corner on March 27, a lot of new information has been revealed on the PlayStation Blog about the game's RPG-like mode, Road to the Show.
In Road to the Show, you take your created player all the way through the ranks of the minor leagues in an attempt to make it to "the show" in the MLB and become a superstar. This includes progression, player creation and customization, clubhouse interactions, and more.
The first and most welcome addition to the mode is the removal of all microtransactions from the progression system. In the past, players would have to grind out a ton of the game to level up their character, or just buy progression points with money. The latter is no longer an option.
When creating a player, you will now select an Archetype. Archetypes let you choose what kind of player you want your character to become, with references to superstars of past and present to help guide you. Examples given were "The Wizard" to play like Ozzie Smith or Jose Altuve, or "Plain Filthy" to pitch like Phil Niekro or Stephen Strasburg.
The "Pave your Path" narrative has also been expanded "to help tell the story of what it's like for a mid-to-late round draft pick in the baseball world." This includes lots of interactions with people like managers, agents, team owners, and more.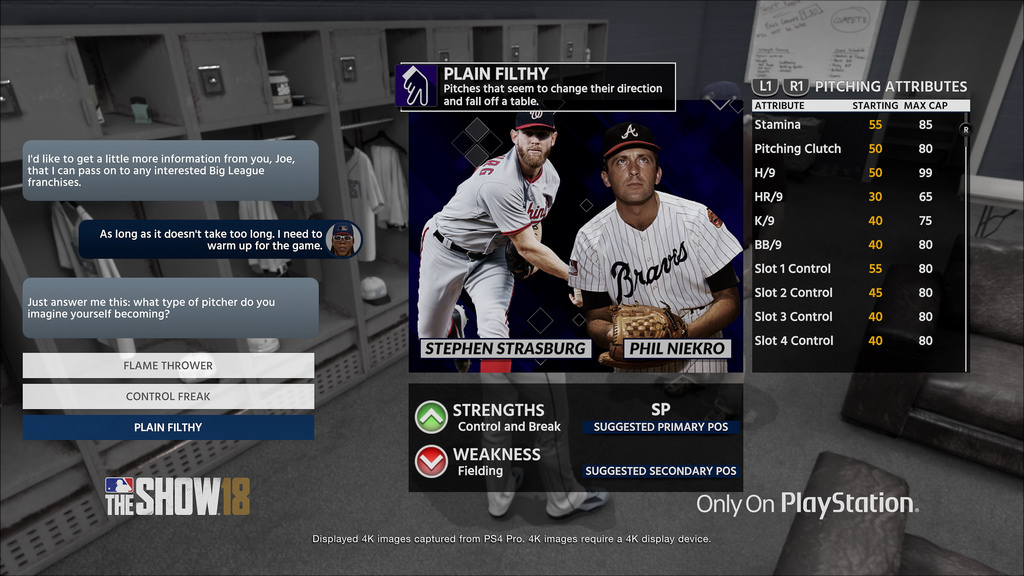 Playing on the field has seen improvements, too, to better reflect how you perform in-game. If you hit a clutch home run off of a dominant lefty pitcher, for example, you'll gain stats in power vs. LHP and batting clutch attributes.
The other way to improve your player is through Focus Training Choices, which will present you with quick choices throughout the course of the season. These include a short list of options that will represent areas you want to focus on, and doing so will improve the specified attributes.
Customization also has seen some changes, including improved skin, hair, and heads, as well as the all new batting stance creator. There will be more options than ever in customizing your character to your liking.
More will be revealed during a Twitch stream today at 4pm CT, but you can pick up MLB The Show 18 for PS4 to play on March 27 to see it all in-game for yourself.