NBA All-Star Paul George is partnering with PlayStation for his new Nike shoe
It's quite common for NBA stars to have their own shoes. But not many of them tie into video games, like this awesome new Nike shoe by Paul George.
The PG-2 PlayStation Colorway shoe by Nike has a very distinct visual style. The tongues of the shoes sport the "PG" and PlayStation logos, which actually light up and pulsate blue just like when turning on a PS4.
The back heel of the left shoe has a unique barcode with a PSN voucher, to be redeemed on the PlayStation Store, for a Paul George Dynamic Theme. The colors on the shoe also pay homage to the famous face buttons on the DualShock controller.
"This collaboration has been a long time coming," George said on the PlayStation Blog. "Ask me what my favorite PlayStation memory is and I'll tell you it's when my dad got me a PS2 for Christmas. I'd been dropping hints left and right because I knew that was it. That was the next big thing. You could say the same with Nike. As a kid, I'd make sketches of what I wanted my Nike shoes to look like because it's something I've always wanted to be a part of. Now I have the opportunity to make something very special and personal to me with the help of two of my favorite brands."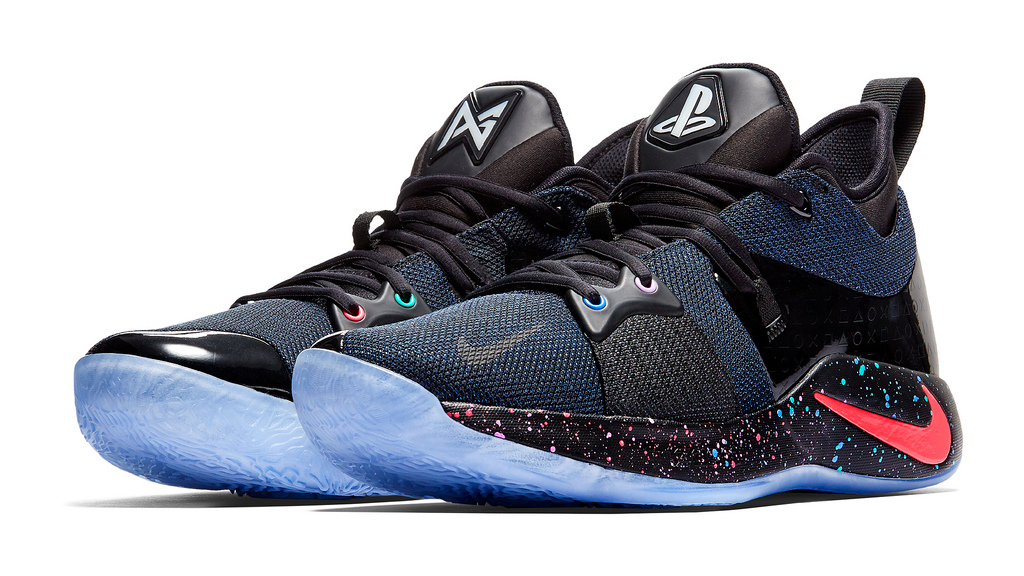 George is currently putting up 20.8 points per game for the Oklahoma City Thunder, his first year with his new team. This is his eighth season in the NBA.
The shoes drop on Feb. 10 at 9am CT for just over $100.