Call of Duty: WWII and Destiny 2 highlight the PlayStation Store's top downloads of 2017
Call of Duty: World War II and Destiny 2 were the top downloaded games on the PlayStation Store in 2017, PlayStation announced today.
Exact numbers of revenue were not given, but both Activision first-person shooters topped the list that also included games like Horizon: Zero Dawn and Grand Theft Auto V.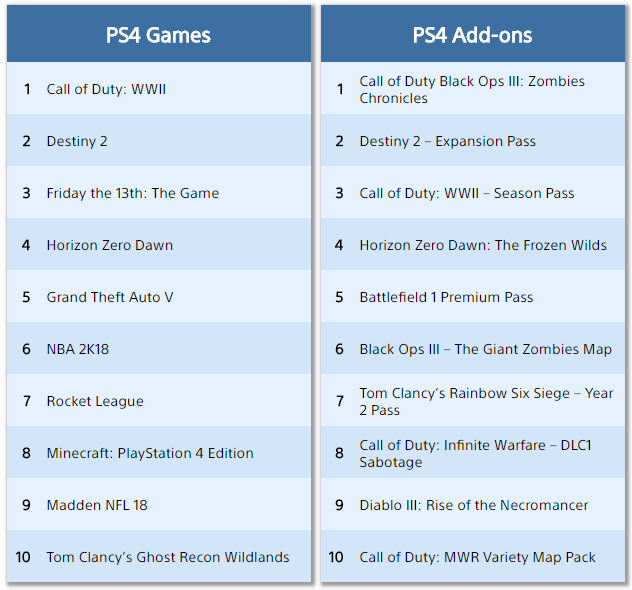 A surprise on the top 10 list is Friday the 13th: The Game, all the way up at number three on the list, ahead of even Horizon, GTA V, NBA 2K18, and Rocket League.
The top 10 is rounded it out by Minecraft: PlayStation 4 Edition, Madden NFL 18, and Ghost Recon: Wildlands.
The list of the most downloaded PS4 add-ons is somewhat indicative of the game list, too, but Call of Duty was the real winner as the long-standing FPS series took up five of the 10 spots on that list.
Call of Duty Black Ops III: Zombies Chronicles took the top spot for DLC, while the CoD: WWII Season Pass finished in third. The Giant Zombies map for Black Ops III took the fifth spot, while CoD: Infinite Warfare also took a spot in number eight for its Sabotage DLC. The number 10 spot also belonged to CoD, with its Modern Warfare Remastered Variety Map Pack.
Meanwhile, Destiny 2's Expansion Pass took the second slot for DLC add-ons, and Horizon: Zero Dawn: The Frozen Wilds expansion took number four. The final three spots belonged to Battlefield 1's Premium Pass, Tom Clancy's Rainbow Six: Siege Year 2 Pass, and Diablo III's Rise of the Necromancer DLC.
It appears that CoD's return to the WWII setting has paid off in a big way, and Destiny 2 still sold very well despite a cold reception in the months following its release.