Pokémon Sword and Shield was the most hated game at E3 2019
Following E3, Pokémon Sword & Shield has been recognised as the least popular game of the show, following a calculation of public opinion via Youtube's voting system.
Taking into account the number of and votes cast by viewers on Youtube via official sources for the videos of each trailer, using their official location, the Treehouse live coverage of Pokémon Sword and Shield, which currently has over 49,000 dislikes compared to around 16,000 likes, currently has the highest ratio of dislikes per view. The graph, created by Reddit user SolracM, shows that Pokémon is way out ahead of the likes of Battletoads and Shenmue III.
The rise in dislikes for Nintendo's coverage of their upcoming new Pokémon is likely the result of the news that they will not be using the National Pokédex for the game, and that only certain Pokémon would be available in the Galar region. While it means that Gamefreak can tailor the experience better, fans have argued it removes the element of choice for them to pick the full team that they want. Nintendo is not expected to reserve this decision but could be forced to amend it if public opinion continues to sour.
The appearance of Shenmue III is also likely to be less about the game itself and more about the developers choice to switch the PC platform to an Epic Games Store exclusive after promising backers in the original Kickstarter that a Steam release would take place.
Battletoads has been criticised for looking generic and low budget. Hence it's inclusion at number two.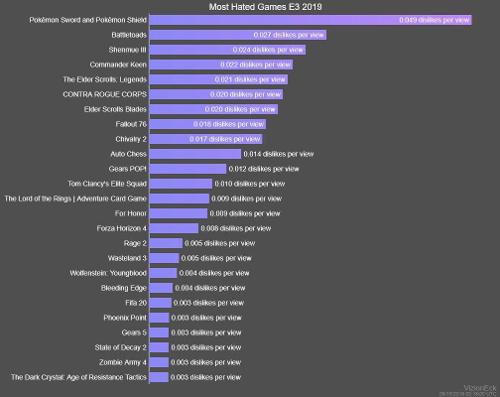 The accuracy of public opinion is questionable with the graph as it doesn't take into account the feelings when unaffected by singular announcements, but it does give an indication of the power fans can have over important decisions in a game's development.