PS4 Firmware 5.50 – All New Features List And Screenshots
The beta version of the upcoming major PS4 system update (PS4 Firmware 5.50) rolls out today. And if you are signed up for the beta testing program and are selected for the update, then you will receive an email containing the instructions on how to download the update. The latest update adds a lot of new features which are much needed and will be very useful. This was announced on the official PlayStation blog by Mary Yee, PS Marketing, SIEA.
You take can take a look at the full article here. Now, let's take a look at what the update offers to the users.
Play Time Management
This is simply a way for the guardians to control and take a look at their child's gameplay duration. Here is how you can manage the playtime-
Go to settings
Then family management or if you are on your PC or Phone, then log in to your PS account
Then there you will be able to check the play duration
If you want to restrict the play time, then you can do so.
Make sure the child only plays during the set period of time.
A notification will be sent during gameplay when the duration is closing to its end.
In addition to this, the guardian/parent can extend or reduce the playtime on the go via their smartphones or PCs, not only that they can also set whether or not their child will automatically log out from the PS4 once the duration has ended.
Library UI Updates
'This PS4' and Name/Avatar tab.
There is the addition of two new tabs which are 'This PS4' and 'Your name tab'.
This PS4- This tab shows all the applications that are installed on that particular system.
'Name/Avatar Tab'- Shows all the apps and games that you have purchased using the ID.
This feature will help in identifying apps and games that have been purchased but not installed.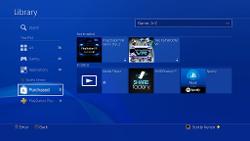 PS Plus Tab
All the PS Plus games will be available under this tab. If you have subscribed to PS Plus, then the tab will be usable. However, if it's expired or you don't have it then a lock symbol will appear on it.
Hide Apps.
Simply, hide your purchased apps. Go to options and from there you will be able to hide anything like Demos, Betas, trials etc.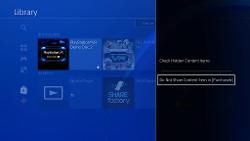 Quick Menu Enhancements
You can now access your specific friends you are searching for or want to see who is online via the new Pull down menu, under the Friends tab in Quick Menu. A few shortcuts have been added as well, the square button on the controller will now function as a volume rocker while listening to music. And if you are in the media player window then, Triangle button will act as a Play/Pause button.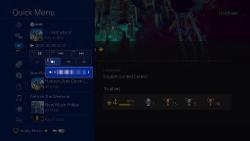 Notifications Update
This feature will allow you to delete older notifications for better management. Go to options then select the notifications you would like to delete.
Background Music on PS Now.
This feature will allow you to listen to your tracks while streaming your gameplay on PS Now.
Custom Wallpapers.
You now will be able to apply your own wallpapers which you can transfer from a USB stick.
Steps-
Settings
Themes
Select theme
Custom
Select image
USB Storage device.
Customize Tournaments Team Pages
Customize your Tournaments team page with your own team logo or background which you can transfer from a USB drive.
Steps to apply it-
Events
Teams
Select your team
Edit team profile
The Supersampling mode under the Settings tab, when enabled will give a more crisp and sharp visual reproduction on 1080p HD or Lower resolution TVs. What it does is renders the game at a higher resolution i.e. renders it at 4K and downsamples the image to match the resolution of the TV.
Some games already have this feature implemented as a part of 'PS4 Pro Enhanced' feature set, however, this new mode applies to all the games. This mode will take advantage of the PS4 Pro's superior hardware for better visuals.