20 Games That Generated Highest Revenue On Steam In 2017
SteamSpy, the popular platform that gathers all the sales data for video games released on Steam, has just unleashed a new chart ranking the titles that had the best revenues on Valve's digital delivery service throughout 2017.
Unsurprisingly, the game leading the chart is PlayerUnknown's Battlegrounds, which managed to sell for $600M. It's a huge number, made even bigger by the fact that in the second place we can find Counter-Strike: Global Offensive with "just" $120M.
This is the full chart:
PUBG – $600M
CS:GO – $120M
GTA V – $83M
Call of Duty: WII – $41M
Civilization VI – $39M
The Witcher 3: Wild Hunt – $38M
Divinity: Original Sin 2 – $37M
Ghost Recon Wildlands – $33M
Warhammer II – $32M
Middle-Earth: Shadow of War – $31M
Rainbow 6: Siege – $30M
NieR: Automata – $29M
ARK – $28M
For Honor – $26M
Assassin's Creed: Origins – $25M
Resident Evil 7 – $24M
Dark Souls III – $24M
Rocket League $23M
Football Manager 2018 – $23M
Cuphead – $22M
It is worth noting that Ubisoft's games are also sold on uPlay, so the total count of revenues is still unknown. On top of that, Rockstar Games also sells its titles on Rockstar Social Club, so there might be something more to add to this chart.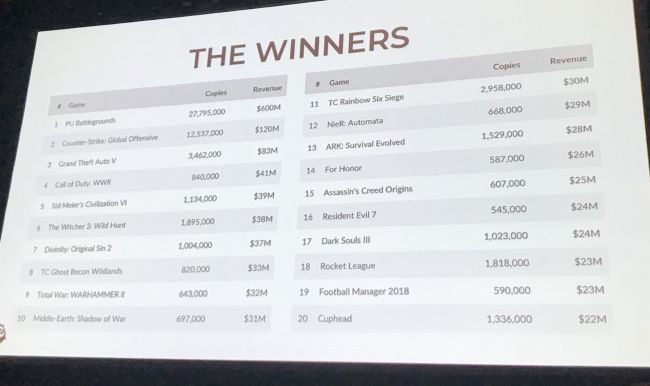 Anyway, it's just incredible to see PUBG's been so popular last year; similarly, it's surprising to see Cuphead among these giants. Did you purchase those games on Steam? Are you still playing them? Let us know in the comments below.