State of Decay 2 Collector's Edition Announced With Some Exclusive Benefits
State of Decay an upcoming zombie survival video game that is releasing on May 22, 2018, will have a Collector's Edition also. The game was coming out in Standard and Ultimate Edition. Recently on the official Xbox blog, a Collector's edition is announced which features some exclusive content for the buyers.
State of Decay 2 Collector's Edition will feature an exclusive Steelbook Case, Zombie Mask, and thumb drive. It will also have human brain Steelbook stand. You can pre-order the Collector's Edition for $69.99. The item pictures you can see below. Xbox Game Pass member can buy the Standard Edition for $29.99 and Ultimate Edition for $49.99.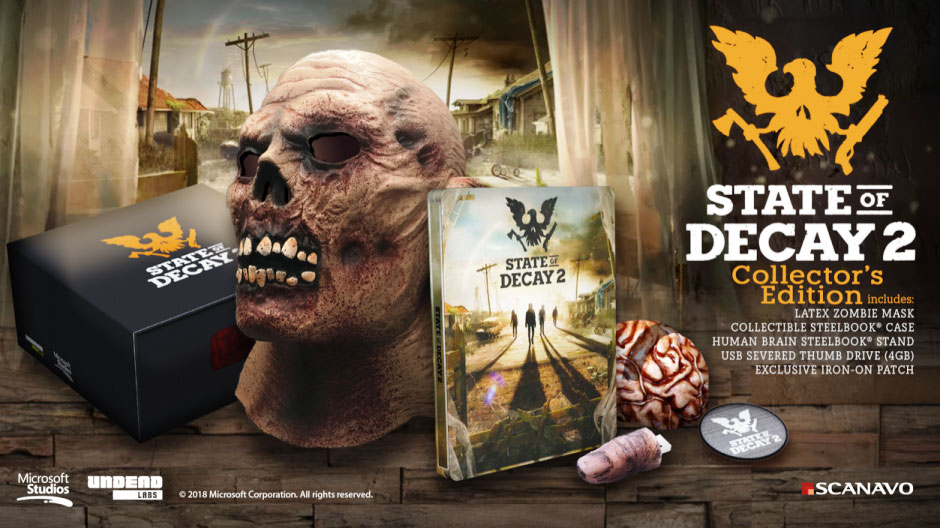 Xbox Game Pass members can play the game on a monthly subscription cost of $9.99. The game will have paid DLC, there won't be microtransactions according to recent news. A 25 minutes gameplay video is out that reveals a lot of interesting information on the game. In the video, you can watch the 4-player co-op multiplayer mode gameplay.