PUBG, CS:GO, and Dota 2 were among Steam's top revenue games in 2017
A number of esports titles highlight the list of Steam's top sellers from 2017, including Counter-Strike: Global Offensive, PlayerUnknown's Battlegrounds, and Dota 2.
Steam did not specify which games within the list generated the most revenue, instead separating a list of 100 games into tiers like Platinum, Gold, Silver, and Bronze.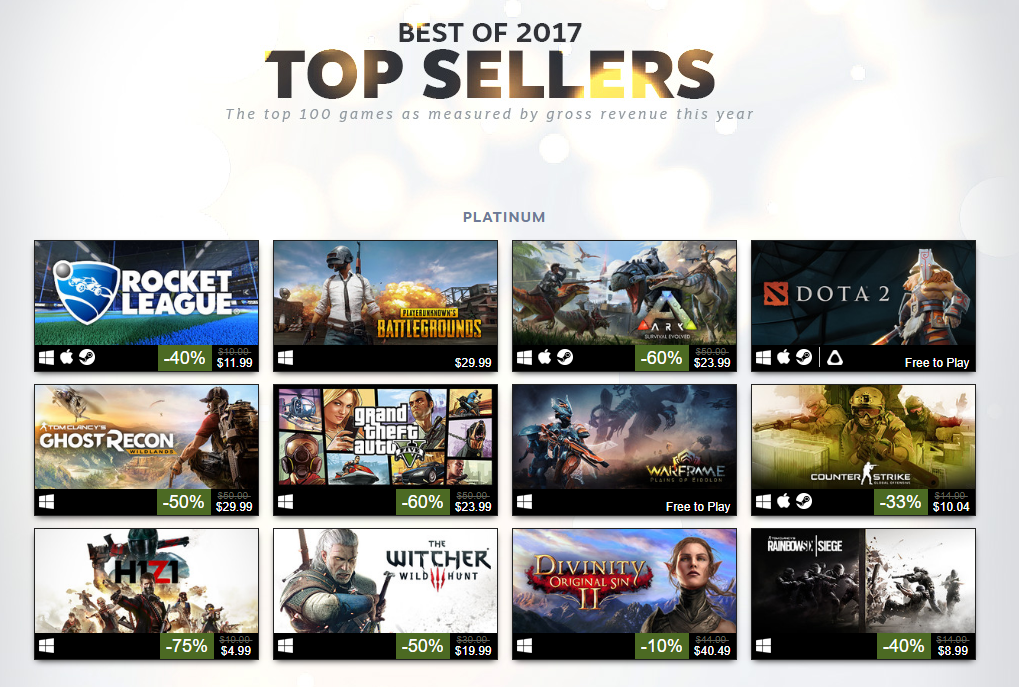 PUBG, CS: GO, and Dota 2 all highlight the Platinum list. Other top revenue games in Platinum included Rocket League, Ark: Survival Evolved, Tom Clancy's Ghost Recon: Wildlands, Grand Theft Auto V, Warframe, H1Z1, The Witcher III: Wild Hunt, Divinity: Original Sin 2, and Rainbow Six: Siege.
The list is quite interesting in itself. PUBG makes a lot of sense, as it is the most popular game on the platform currently, and CS: GO and Dota 2 are both extremely popular titles as well. Dota 2 is free-to-play, though, which makes its inclusion that much more impressive.
Other competitive titles like Rocket League, H1Z1, and Rainbow Six: Siege are also exciting to see at the top of the list, while GTA V Online still flourishes to this day, along with Ark.
Warframe is another free-to-play title, so it seems like people are enjoying it enough to put money into it after the fact. Ghost Recon: Wildlands is something of a surprise near the top, while Divinity: Original Sin 2 and The Witcher III stand out as they are both hugely popular games that don't focus on multiplayer.