Pre-order deals guide for Hearthstone's next expansion, The Boomsday Project
Hearthstone's next expansion is only a few weeks away—and that means it's time to think about how you're going to acquire the new cards.
If you're an avid free-to-play player who's been maxing out his gold every day, you might well have everything you need already to get started. Packs cost 100 gold each if you're doing things that way.
Normally, the best value back is 60 packs for $69.99. That's available for all current card sets in the store. There's also a 40 pack bundle for $49.99, all the way down to two packs for $2.99.
But for new expansions, there's always a pre-order deal. Traditionally that was 50 packs for the price of 40 at $49.99, with an added bonus of a card back or some other goodies thrown in. For The Witchwood, the first expansion of 2018, the deal was bumped up a little bit. For the same $49.99 price tag, players received 70 packs instead of 50. That was the best deal that's ever been offered for card packs.
Unfortunately, that deal isn't available this time. It's back to 50 packs for $49.99, plus a card back and a random golden legendary.
For the first time however, there's a second pre-order bundle available. For $79.99 players will receive 80 card packs, plus the card back and a random golden legendary. But you'll also get the new Mecha Jaraxxus Warlock hero portrait, which is exclusive to this bundle.
Here's a table that shows the value of each option for buying packs.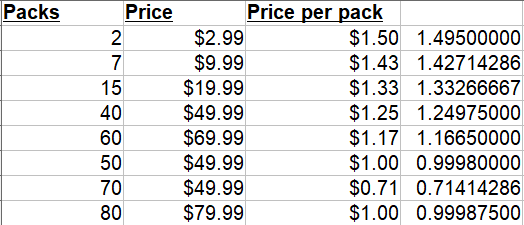 Obviously the 70-pack deal from The Witchwood is the best ever deal. The 50 packs is marginally better value than the 80-pack bundle—but the 80-pack bundle include Mecha Jaraxxus, so your value varies.
Whether you're a free-to-play player or someone happy to put cash into the game, start thinking about how you want to get into The Boomsday Project. The deals will be available until the set goes live on Aug. 7.