The Witcher 2 Coming Soon To Xbox One X Enhanced Program – Rumor
It looks like there's a possibility we could be playing The Witcher 2: Assassins of Kings as an Xbox One X Enhanced title sooner rather than later. That's at least according to a new supposed leak.
Based on a photo appeared on Reddit, which actually looks quite blurry – the highest clue hinting at it possibly being fake -, it seems the game has popped up on Xbox One's dashboard and specifically features a listing as "enhanced for Xbox One X".
We have our fair share of doubts about this being legit, however, we would be very glad to check it out on the latest hardware, with all the improvements you'd expect from a PC release.
On top of that, being the game already available for PC, it would be rather easy for CD Projekt RED to push the boundaries on consoles too, taking advantage of the graphics (native 4K would look easily achievable) and performances (perhaps even 60fps, like the unpatched The Witcher 3) witnessed on higher spec machines.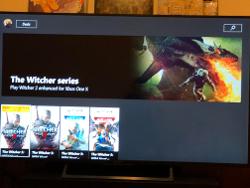 ResetEra users also suggest that Albert Penello, from Xbox team, shared on Twitter that "more" games are "coming soon" as part of the enhanced for Xbox One X portfolio. So, it seems The Witcher 2 might be an opportunity for the program, after all.
Yes. More coming soon!

— Albert Penello (@albertpenello) February 19, 2018
CPDR is currently working on Cyberpunk 2077 and will probably discuss it at E3 2018, we don't know whether as a simple trailer or a more substantial presence at Sony or Microsoft's media briefings.
Source: ResetEra