Twitch Rivals Apex Legends Standings
Day 2- Twitch Rivals Apex Legends Standings
The final day of the Twitch Rivals' Apex Legends tournament did not disappoint! The $200,000 tournament allowed another set of NA & EU teams to duke it out within the insanely popular; Apex Legends. For the NA side of the tournament, "Scott's Tots" managed to take the number one spot with 393 points. "TSM" came in second with 377 points. Check the chart below for a more detailed examination of the NA stats.
Over on the EU side of things, "Solary" took first place with 387 points. They were followed closely by "Wtcn" who had 383 points. Again, check the chart below for a more detailed stat breakdown. Congratulations to all of the winners and check back here for future tournament recaps!
It's barely been a week, and the Esports community is already embracing Apex Legends. The Twitch Rivals event is playing host to the first major competitive event for Apex Legends. Essentially this two-part tournament will feature forty-eight popular streamers such as "Ninja," "DrDisrespect," and "Shroud," all fighting for a prize pool of $200,000. On each day of the tournament, a total of sixteen full squads will duke it out that day. There will be an NA and EU division of teams and competition will be fierce! Interesting enough, instead of the teams directly squaring off against one another, each team will enter into public lobbies. Every kill that each team gets will be worth one point, and victories will net them five points. So with that in mind, let's recap the slaughter!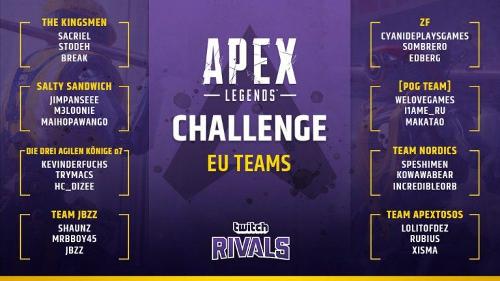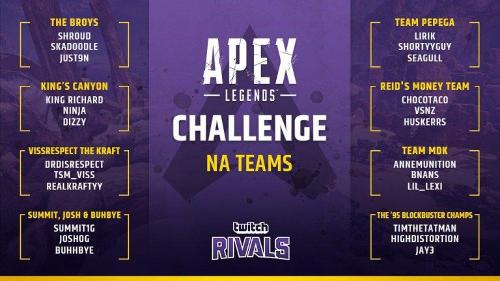 Day 1 – Twitch Rivals Apex Legends Standings
Unsurprisingly, the carnage for Day 1 of the tournament did not disappoint! For the NA division of the tournament, Kings Canyon ("Ninja," "Dizzy," and "King Richard") took the top spot with 420 points. They were closely followed by Relds Money Team ("ChocoTaco," "VSNZ," and "Huskers") who had a total of 419 points. Here's a complete breakdown of all the stats for the NA division below.
Across the pound in the EU division, Team MANE took the top spot with 399 points. Team Nordics locked down second place with 362 points. For a more detailed stat breakdown, check the image below!
Is your bloodlust not satisfied yet? Don't worry! The second half of the tournament will take place on February 19! Check back here for another recap and find out which squad will claim the title of the Apex Legends!