Apex Legends: Where And How To Get The Valentine's Day Cosmetics Items
Respawn released the first Valentine's Day cosmetic items in the Apex store early today. You can receive one of the two new exclusive skins, the "Through the Heart," Longbow skin or the "Love of the Game," Pathfinder banner frame for 1,100 Apex coins. To purchase both, you'd need to have 2,200 Apex coins. However, there's a small catch to acquiring even one of these skins.
Where And How To Get the Valentine's Day Cosmetics Items In Apex Legends
To earn enough Apex coins to purchase at least one of them, you need to buy two different sets of Apex coin packs. The one closest to 1,100 is the 1,000 Apex coins pack available for $9.99, which is the lowest possible. But you're still missing 100 coins. To fix it, you'd have to purchase another box for the final 100 coins, costing you $20.00 for a single cosmetic item.
You could go all in for the second lowest Apex coin pack that costs $19.99, though you're still 50 coins short to have the capacity to purchase both items.
As of right now, Respawn or EA have not commented on this. Though many players on the Apex Legends Reddit forums have noticed this, and are freely voicing their opinion on the matter.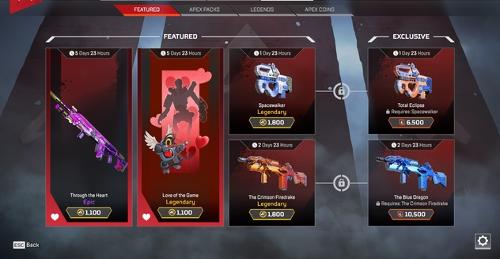 ​