PS Plus Free Games March 2018 Lineup Predictions And Speculations
I'm always surprised to see how much hype PlayStation Plus free games lineup announce carries with it each and every month. It's something that allows not only video games to have something to wait for, some kind of appointment they know they can rely on, but also websites to offer their predictions and speculations based on specific calculations, leaks, rumors or, maybe more often, nothing at all.
We at Gamepur are in a sort of limbo between those positions, as I had a chance to look at lots of hints and suggestions coming from all different places in the net and so I think I could be able to formulate some kind of decent list of titles where the actual ones to be offered next month (March 2018) could be in. So, don't hold your breath, but take the following as titles that sooner or later could be coming to PlayStation Plus' Instant Game Collection for PS4.
First of all, here's my modus operandi. I took into account the last two months (January 2018 and February 2018) to try and understand how Sony is building its monthly lineup and easily found out the couple for PlayStation 4 are built this way: a triple-A game and a smaller/indie/digital-only one. In February, which in my opinion was among the best months in years, we had Knack and Rime; in January, we had Deus Ex: Mankind Divided and Batman: The Telltale Series.
Even considering December 2017 the bigger picture here was pretty clear: Darksiders II Deathinitive Edition and Kung Fu Panda: Showdown of the Legendary Legends are quite a good fit into that scheme. I know October and November were a bit (a huge bit) disappointing, but that's almost a standard: it's probably PlayStation Plus not willing to distract consumers from the main blockbusters offered by some of the biggest publishing partners and releasing throughout these two months, like Call of Duty and Assassin's Creed.
The most recent and likely rumors pointed at The Order: 1886 to be a part of some of the upcoming lineups, and I think it's possible. Sony let us put our hands on a launch title as Knack in February, so I would definitely not rule out the possibility of another AAA, first-party game to be delivered the following month. The fact these would be two consecutive months with first-party titles would make me believe it can't be happening, but remember that PlayStation Spain exec describing March as one of the best months ever?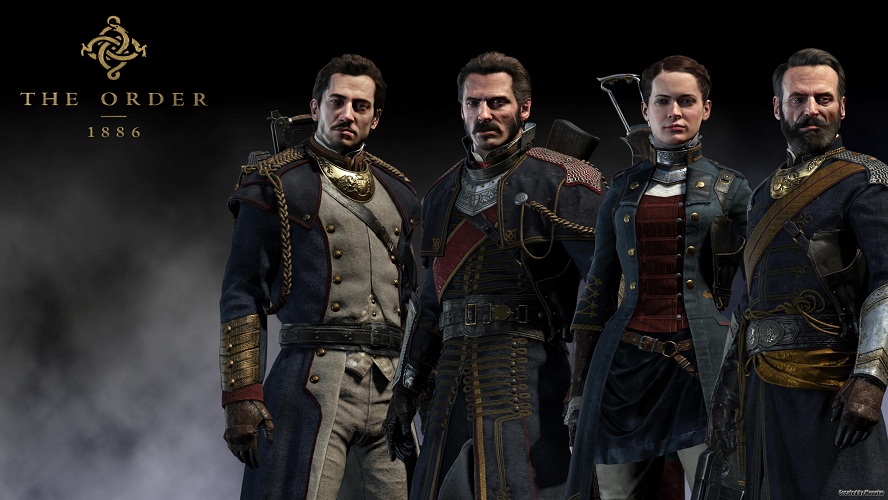 Including The Order: 1886 would definitely make next month one of the best ever, mainly because of the productive values of the game – even now, one of the most brilliant in terms of graphics – and the fact that many PS4 users didn't approach it since it released very early in the console's lifecycle and had pretty bad press in the launch window. Also, would allow Sony to recoup some costs from the quite expensive budget developer Ready at Dawn had at its disposal back in the days, sparing at least one partnership deal with an external company.
I comprehend The Order: 1886 could look a bit too ambitious, by the way, so let's check some alternatives in case this doesn't happen anytime soon (which I believe wouldn't be a smart move from Sony). Considering Square Enix, Konami and THQ Nordic have already been featured in the last five to six months, it could be time for another publisher to offer one of its titles for PS4: could it be Bandai Namco with Dark Souls III, which has also been rumored for being part of a recent flash weekend deal on PlayStation Store? It seems one of the most enjoyable suggestions here, but I would not count it in because it's already on Humble Monthly. From the same publisher, by the way, we have Tales of Berseria that could make the job.
Or could it be Warner Bros., with the constantly rumored-to-be-included Mad Max? Being based on a movie property, it could be tough to license and offer it for free to subscribers of such platform, and it wouldn't make great sense to use it just out of nowhere without promoting any correlated cinematographic effort. It'd be pretty sweet, though, I have to admit, and I would understand why it took so long as well since the first time it has started to float around as a rumor.
Ubisoft is fuelling Games With Gold quite often but being often shy when it comes to PlayStation Plus, something I don't see changing anytime soon: just look at the release date of Far Cry 5 and think how much the French publisher might be willing to disturb its launch. As for the second game which could be dropped as part of the PS4 offering, well, the sea is just too big and the fishes too many to determine what could be coming along the way: I've seen people talk about Shovel Knight and Bastion, which look rather believable but simultaneously in the same position of many other AA/indie productions that could be selected for March's IGC.
From what I see, anyway, it would be disappointing to see PlayStation Plus return to a November-like lineup, for the reasons above (blockbusters on their way, etc.), and my opinion is the platform holder has the right assets to keep the momentum and at the same time don't waste a lot of money in the process.
My two cents are for The Order: 1886 in pole position, while something from Bandai Namco or Warner (perhaps, respectively, Tales of Berseria and Mad Max) definitely look a good fit for the way Sony has shaped up its lineups this year. We'll need to wait until Wednesday, Feb 28 and see whether the last few good months will be actually confirmed or there will be yet another step back in the quality of the Instant Game Collection.