10 Most Anticipated Games [September – December 2018]
2018 has already dropped some very interesting titles and more are about to come. September is here and it's already starting to show what this year is going to be able to deliver when it comes to great video games, from a great variety of genres and for a plethora of different tastes of different people who want different stuff to play. The predominant genre will be the open world action adventurer, at least in our list, where I have decided not to include sports games releasing each and every year – you know they're coming already, come on – and the same goes for shooters like Call of Duty 4 and Battlefield V which also are quite a given for video games accustomed readers.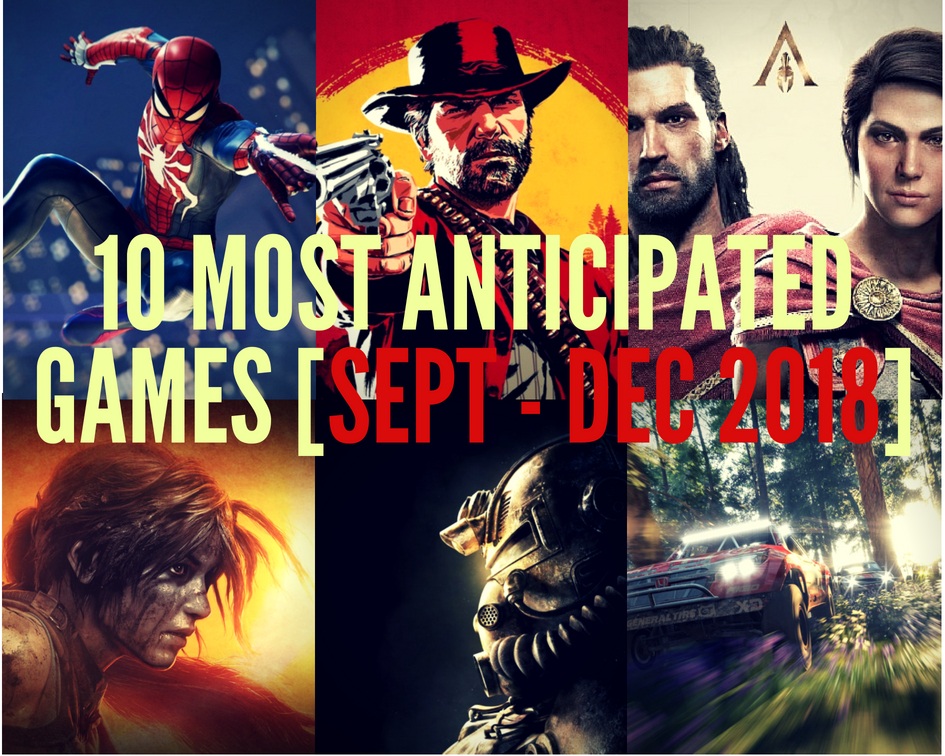 So, without further ado, here's the ten games I'm quite convinced you should anticipate the most for the remainder of this year.
Spider-Man: Sept. 7
I've never loved Insomniac Games that much, although it's one of the developers which have had the biggest impact on my childhood. In my eyes, they had quite a big redemption with Sunset Overdrive, an open-world title that really showed what they can do in a more modern video games structure (and that something was very good).
They're building from the ground up an original Spider-Man adventure, and the great thing in all of this is Sunset Overdrive is serving as some sort of base for it. So, the base of a game I enjoyed very much, plus one of the few superheroes whose existence I've managed to tolerate over the course of the last years (Raimi's trilogy and the latest Homecoming were pretty cool) – that's going to be fun.
Shadow of the Tomb Raider – Sept. 14
It was nice to see Lara Croft really managed to find an identity of its own that could have a meaning in the modern video games landscape, back in 2013 when Crystal Dynamics and Square Enix decided to reboot the entire series with a focus on the younger version of the protagonist.
Now, with Crystal Dynamics busy on its Avengers things, Eidos Montreal has the duty to end the trilogy of the Young Lara, getting what was good from the reboot and Rise of the Tomb Raider, and adding some new ideas like a hub where you can get secondary missions and do your crafting stuff. It's going to be the Tomb Raider you've enjoyed thus far, but with a couple additions that could end up being smart.
Forza Horizon 4 – Oct. 2
The Forza Horizon franchise has never had my attention, to be honest. It always felt like an open world racing game which needed cool locations to have it, and at times it wasn't able to do that. Now, even though Great Britain is not the coolest of the settings, it seems like it's introducing a few features worthy of a look.
Forza Horizon 4 is coming with live seasons, which are having different climatic conditions over a base of four weeks, and a deeper push onto cooperative gaming, as it features up to 72 players in a server and groups of up to 4 friends which are finally able to do their things entirely free on the map. Looks very nice and a possible turning point for the genre.
Assassin's Creed Odyssey – Oct. 5
Listen, Assassin's Creed Origins is a great action adventure game and you should definitely look into it, and who cares if you're not into the Assassin's Creed franchise. I wasn't expecting Ubisoft to reveal a brand new game with Odyssey at E3 2018, but what's nice is that – exactly like Origins – it's looking great.
With Assassin's Creed Odyssey, the series is going all-in with the RPG component. It's introducing choices, which lead you to different endings, romances, and the opportunity to select your protagonist at the beginning of the game. It's coming with very slight links to the original story and, while that could disappoint fans, it seems a good path to cross for a series which has quite lost its identity after the initial trilogy.
Red Dead Redemption II – Oct. 26
I know you don't need me to tell you why you should be anticipating the release of Red Dead Redemption II, and that you really don't need me to remind you the launch date – which is coming October 26 for PS4 and Xbox One, by the way. It's the most anticipated game this year and it's clear it's going to be a huge video game, whatever is the perspective you look at it from.
So, it's a prequel, and we've already seen that John Marston, from the previous chapter, is going to be in the game in a much younger version of himself. You are a member of a gang which is ravaging what remains of the Wild West, as it faces a transformation in a more modern United States of America, and have the opportunity to have camps all over the place to do very interesting stuff.
I'm not in the hype, I must say, but when I think of what Rockstar Games is striving to achieve with RDR2, it's a crazy amount of content and features. Like, you have a camp, where you can tell stories with you comrades, manage resources, go for a hunt, choose from a variety of horses who get hurt in specific points and require for each of them specific cures, and so on, without even mentioning the main story.
That's a just the tip of the iceberg, just something that gives us the idea of how deep is Red Dead Redemption 2 going to be. With a second gameplay coming soon, we'll learn even more about it and most possibly understand that Rockstar is one of the very few devs out there which can be a serious competitor to CD Projekt RED (and Cyberpunk 2077) when it comes to caring about the slightest details.
Spyro Reignited Trilogy – Nov. 13
When I told you Insomniac Games is one of the developers which had the biggest impact on my childhood, I was thinking of Spyro, of course. As it happened with Crash Bandicoot, the series lost itself with the departure of the original dev team and with the change of trends in video games, where photorealism and seriousness where the only thing possibly coming from the industry for a few years.
Now, again as it happened with Crash Bandicoot, a remaster is coming very soon on PS4 and Xbox One, and it's featuring a crazy amount of technical changes that make this product closer to a remake rather than a simple remaster as generally intended. It's not Crash but, if you're searching for light-hearted 3D platform experiences, go for it.
Hitman 2 – Nov. 13
As a fan of stealth, I've enjoyed my time on Hitman two years ago, and even my doubts about the episodic structure disappeared once I noticed the amount of quality and novelty developer IO Interactive poured into each of them. Surprisingly, though, there's a Hitman 2 coming this year which is ditching the episodes and coming in one solution.
While, again, I'm surprised about the announcement, I'm happy to see IO managed to go past the difficulties it faced when parting ways with Square Enix, and that this game, despite being different in terms of sale model, is basically building upon what was good in the original (live events, contracts, even remastered maps from H1). And, most importantly, it's dropping in a couple months.
Fallout 76 – Nov. 14
I'm a fan of Fallout, too, but honestly, I'm not very sold on Fallout 76 at the moment. While the stuff we've been presented at QuakeCon was quite reassuring and the brand, in general, deserves to be in this list, I'm not totally persuaded that the game is not going to be devastated by the usual flood of kids and people who spend 24 hours per day on it, and by result make your experience a complete disappointment each time you log in.
It's ok that Bethesda Game Studios tries and explores new things, and the idea itself of a Fallout title set in an always-online environment is fascinating for certain extents. But I fear that the experience is going to have a tough time for those who remind what Fallout is all about, solo gameplay and overall solitude first and foremost, and also that it's coming a bit too free or light on content in terms of missions (there are no NPCs delivering them). The beta coming in October will definitely help me clear my ideas on it.
Darksiders III – Nov. 27
When THQ dissolved back in the days, one of the intellectual properties I was most disappointed at losing was Darksiders. Luckily enough, while it took a few years before this could be happening, THQ Nordic and Gunfire Games were able to make it return for a third chapter, featuring a brand new female protagonist, Fury.
We've not seen a lot of stuff from the title before Gamescom 2018, so we're don't really know what to expect from it and hopefully we'll learn more in the next few weeks, but what's interesting to me is that the dev team is scaling back on things that made the original Darksiders cool, renouncing to the perhaps too big environments and RPG component we've gone through in the second game. That's a great news, and one that, together with the core mechanics of the franchise, makes me anxious at playing Darksiders III.
Super Smash Bros. Ultimate – Dec. 7
Sincerely, I'm not sure I'm a Smash Bros. fan, but look at what Nintendo is doing with Super Smash Bros. Ultimate. For certain extents, the game is not too different from the latest entry for Wii U, but there's a number of playable characters which is simply astounding and the stages are a lot, too.
What's nice is that each character is coming from very, very popular franchise (there's even a comeback of Solid Snake from Metal Gear Solid), and has voice-overs, looks, and skills that make them definitely unique. This is what I love about Ultimate, and probably what'll have me playing it upon release.