10 best Elder Scrolls V: Skyrim mods
Expand your adventure in Skyrim by adding more to your experience
The adventures in Skyrim continue to live on for returning players, and those jumping into for the first time. Since it came out in 2011, it's been a stand out RPG title and has come to nearly every modern console in the past decade, such as the Nintendo Switch, PlayStation 4, Xbox One, and the PC. After having played it so many times, things can feel a bit stale. The best way to change things up is to introduce mods to the game, and the community surrounding those mods has been working on them since the game initially released.
Realistic Needs and Diseases
Interested in playing Skyrim as if it were a survival game where you had to monitor your food and drink levels? The Realistic Needs and Diseases mod by Perseid9, who credits several other mods that inspired them to make this one. You need to monitor how much food you've had with different levels of hunger and levels of thirst. You need to make sure none of the food spoils, too, so you have to cook it properly to make sure it's good to eat. Spend time resting, using camping gear, monitoring diseases, and keeping yourself alive in Skyrim.
Tundra Defence
When you want to take a break from the hours of exploring, you can put some hours into constructing an outpost to call your own. However, the dangers are now going to come to you. In Tundra Defence, you can expect to find yourself facing off against hordes of enemies attempting to storm your outpost. You need to post defenses to protect yourself and prepare for the worst, and you can turn it on, so they show up at specific moments or in random intervals. It's a tower defense game in Skyrim, complete with guards, a market system, and citizens living behind its walls.
Better Combat AI
For those who felt the game's NPCs were too easy to fight, you have the option to increase the difficulty with this mod. The Better Combat AI mod by Joop improves the NPC's fighting AI so they start to adapt to your combat. You need to employ different tactics against them if you want to prevail, making the combat a whole different approach. The overall combat movement does not improve, but things should feel far less one-sided.
Ultimate Skyrim
For those who want to grab a brand new experience when they fire up Skyrim, the Ultimate Skyrim mod combines a good chunk of different mods and makes them all available in a single location. The entire game is rebuilt from the bottom up. There's new factions, economies, visuals, mechanics, AI, combat, and much more. While Skyrim is a surreal experience in its own regard, this mod will surely blow away even the biggest Elder Scrolls fans.
Voyage to the Dreamborne Isles
Need a change of scenery? The Voyage to the Dreamborne Isles mod gives you the opportunity to explore a strange new land. It's a single quest, but there's plenty to do and explore in this rich environment. Because this is a solo adventure, you want to leave any of your followers behind to ensure you get the most from this experience. You do need to have the Dawnguard and Dragonborn mods to complete the experience.
The Forgotten City
Have you ever wanted to embark on a murder mystery quest in Skyrim? The Forgotten City gives you that opportunity. You need to speak to suspects of the murder, using time travel, and learning the secrets of The Forgotten City to learn the truth, relying on your wits than the strength of your sword or the power of your magic.The Forgotten City is the first mod to receive the national Writers' Guide award for its storytelling and superb voice acting. It's a six to eight-hour adventure you don't want to miss in Skyrim.
Companions and Followers
If you want a new band of travelers to join you on your adventures, the Companions and Followers mod adds 12 new characters who can tag along and assist you. These unique characters all have different starting locations, and they also travel the world attacking raiders and protecting citizens using their skills. When you want someone helping you to watch your back, one of these 12 are sure to provide the assistance you're looking to receive.
Become a Bard
Rather than taking up a sword and shield or a magical staff, you can choose to grab a lute and let the music guide your path in Skyrim. The Become a Bard mod gives you a choice to select a bard as a profession where you can pick up any instrument and start playing it. Some of the songs you play require a second person to play with, allowing you to add your companions to the mix if the song allows. When you become good enough, you can perform in front of Jarls, who offers a gift for your services.
Diverse Dragons Collection 3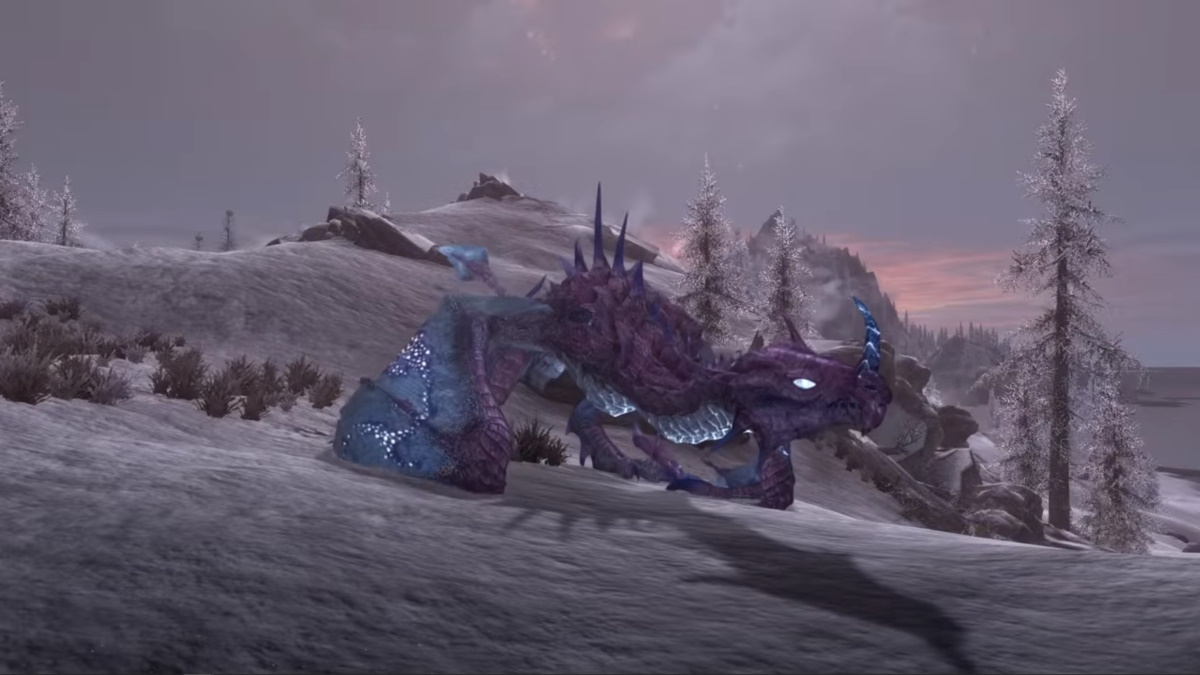 When you want to see some diversity amongst the dragons you're fighting the Diverse Dragons Collection 3 gives you a wide range of change. You can encounter 28 different types of dragons, with various ranks of strength based on their appearance. Some of the feature new breath attacks, and abilities you have to learn how to endure and overcome. Rather than seeking them out, these dragons should integrate into the game naturally so they feel as if they had always been apart of Skyrim.
Immersive Patrols
For those who want the world in Skyrim to feel more realistic, you can add the Immersive Patrols mod to have the warring factions of the area actively moving about it. When these patrols encounter monsters, bandits, or rival factions, they can start battling it out amongst each other, giving you the chance to jump in and side with whomever you choose. You can find additional Stormcloak, Thalmor, Imperial, Dawnguard, Reaver, and Riekling NPCs walking around the area.