Best Day One Courses to play right now in Super Mario Maker 2
Super Mario Maker 2 is finally here, with more of just about everything for both platform fans and cunning creators to sink their teeth into. Like the first game, there's an extensive range of tools to be able to make some clever, devious and downright outrageous courses.
While Day 1 is unlikely to throw up any behemoth tracks, those that have been able to get the game early are already creating some excellent courses for Mario fans to enjoy, so we thought we would shine a spotlight on those that have impressed us, even at this very early stage.
Best Courses In Super Mario Maker 2
So if you enjoy a good Mario track and want to hit some of the best user-created courses, we're on hand to offer some new recommendations for you. With that said, here's five top Day 1 Courses to try.
Spring Has Switched – J7D-9L6-THG
A relatively easy one to start but well made, this course, made by user Kona, uses springs as the title suggests creating traps and springboards to platforms across the gaps. If you're a novice when it comes to Mario games (as unlikely as it seems), this is an excellent start to your Mario Maker 2 adventure into the rabbit hole that is Course World.
A fairy tale of Yoshi – 89C-W4L-JNG
While the previous one was more of a traditional style Mario course, this one required some small puzzle solving. Again, it's not difficult, but it has a section or two that will require some thought as to how to get around it, as well as two (!) boss areas for you to navigate, all the while heading to find and save Yoshi. Another for beginners and one that gives a better idea as to the depth that the editor is capable of at this early stage.
Shadow Temple – LBF-7FF-GFG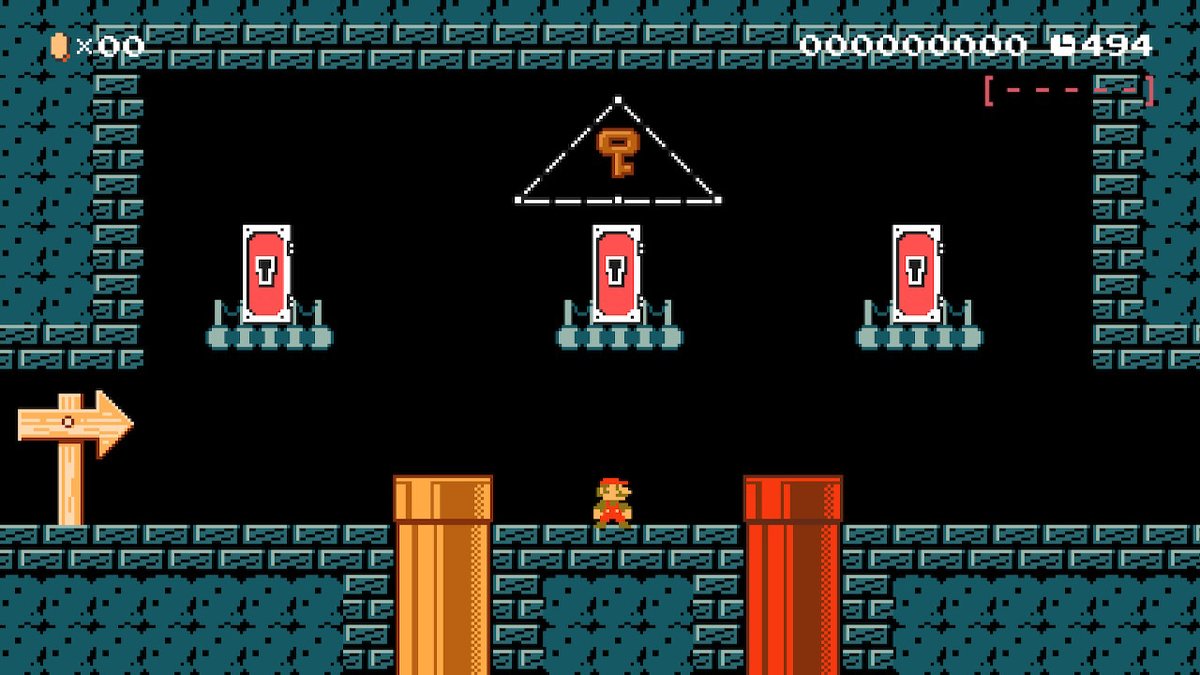 Themed courses are of course a mainstay in the Super Mario Maker community, and Shadow Temple, clearly inspired by The Legend of Zelda (if the big triangle wasn't a big giveaway), is a good example of early work that can be done. Nice puzzle work and some good timing are required as the course goes on and while not super complicated, it's a sign that if this can be made in a day, what could we expect over the coming days, months or years? Excellent work, user Jofe!
Tanooki in the Sky – 03B-1RX-N1G
User Daniel here has made a decent, vertically heavy map that has plenty of skill jumps, enemies in awkward places, plenty of coins to collect and even a secret area which is easily missed if you're going for speed. Here's a fun challenge for you: see if you can complete the course in under 90 seconds. We found it pretty tough, but it's possible in the hands of a skilled Mario player!
Run for it! – GN1-X22-83G
This is the one that we imagine people will crave, the courses that require a lot more timing, skill, coordination, and patience to get through, Run for it! By user Henry is a much more challenging course. It's not insane levels of difficulty, but it will test your nerve early on while still getting used to the feel of the game. It's relatively short, but it requires you to run for the entirety of it and will take a few tries. However, with a clear % hovering at just over 1%, you'll be amongst a pretty exclusive group. This writer managed it, but dread to think how many attempts it took.
We hope you like the courses!