Amazon Crash Bandicoot N. Sane Trilogy PC/XB1 Pre-order Available With Prime Discount
Crash Bandicoot is going multiplatform, Activision has officially confirmed that Crash Bandicoot N. Sane Trilogy will release on Xbox One, PC and Nintendo Switch on July 10. The Nintendo Switch version of Crash Bandicoot N. Sane Trilogy was announced at the March 3 Nintendo Direct, whereas Xbox One and PC version of the game was leaked by Amazon on the same date, and later on, it was officially confirmed by the publisher Activision.
Retailer Amazon has listed Crash Bandicoot N. Sane Trilogy for $40. You will get access to a Remastered version of first 3 Crash Bandicoot games: Crash Bandicoot, Crash Bandicoot 2: Cortex Strikes Back and Crash Bandicoot Warped. Some of the new features that have been added to the Trilogy (i.e. across all three games) are: Unified Checkpoints, Pause Menu, Pause Menus and Save Systems – Manual and Automatic, Time Trials, Play almost all levels in the game as Crash's sister COCO, Audio and Cutscene Remastered including new recordings.
You guys can check out the official box art of PC and Xbox One version below. Crash Bandicoot N. Sane Trilogy has seen a remarkable success on PlayStation 4 since it's launch on PlayStation 4, the game has sold whopping 2.5 million copies.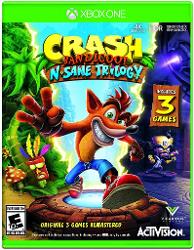 So what are you waiting for – this is your best chance to try out Crash – once a PlayStation exclusive Mascot, on PC, Xbox One, and Nintendo Switch.