Kingdom Hearts III To Have Playable Riku And Fantasia World – OPM Leak
Kingdom Hearts III rumors and leaks are surfacing the web, yet there is no official update coming out for this upcoming action role-playing game by Square Enix. This game is scheduled to release in the year 2018 on PS4 and Xbox One. Talking about the rumors, the latest one is about Sora and Riku. Sora is the central character of Kingdom Hearts III and according to the leak, the game will be split up between the perspectives of these characters.
More like a rumor it comes out from PlayStation Official Magazine for February 2018. Below you can see the extract pick that is first updated by Khinsider. According to the image, the game is split between the perspective of best buds Sora and Riku. There are lots of new characters to be revealed in this new edition. New worlds which are introduced for the first time in the game will inspire by Toy Story, Fantasia, and Tangled. If the image is authentic than PlayStation Official Magazine has delivered a valid leak about the game.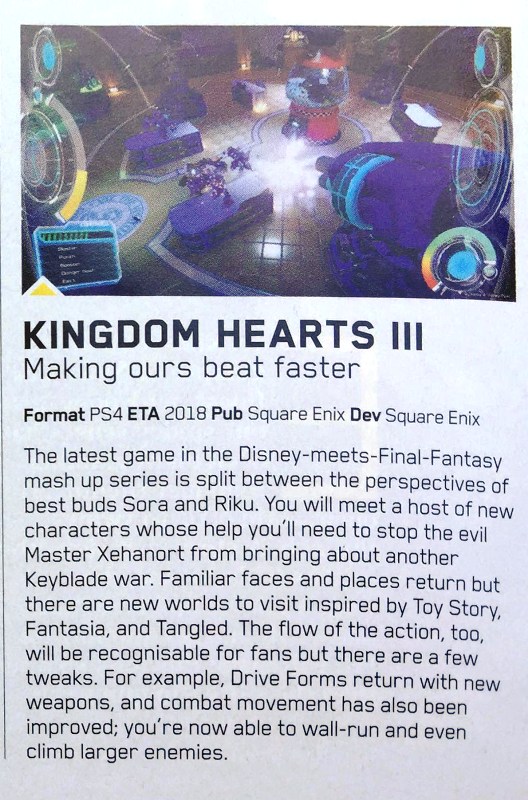 Sora returns in the game back joined by Donald Duck and Goofy. There will be two more characters that will be part of the group. In total 5 players will play together. Kingdom Hearts III features a new gameplay where players will face new enemy types. New traversal elements are added that will allow players to run on wall, jump, summon, perform key blade transformation and command team-up attacks.
Kingdom Hearts III release date has not yet announced. We had covered a news that shows up some screenshots of Monsters Inc. Universe inside this game. It looks the game will have a lot of fresh surprises for the fans, and in this year at least, we can expect accurate details of its release date.
Source: Khinsider