Kingdom Hearts III Leaker Has Been "Captured" – Report
Square Enix's Kingdom Hearts III is one of the biggest releases of 2019, and it is scheduled to launch worldwide on January 29, but few portions of the game have been leaked on the internet (the title screen and other elements) six weeks before the launch of the game.
​
It is reported that someone got access to the final build of the game (Xbox One, 30 copies) via disc-printing or distribution stream, and had shared few short videos on the YouTube of the game booting up and the main menu as a proof of the leak. The user then posted a listing of the game on the Facebook Marketplace with a $100 price tag. It is also reported that out of the 30 copies that got leaked, 10 copies have been sold.​
Kingdom Hearts III Game Director Tetsuya Nomura acknowledged the leak via Twitter and urges other players who have access to the game not to share spoilers screenshots and videos. He specifically asked not to spoil the "epilogue and the secret movie" because these two elements represent Kingdom Hearts III's biggest spoilers. You can read the full statement of Tetsuya Nomura below.
We're aware that a small portion of Kingdom Hearts 3 has been circulating online before its official release. We are also aware as to how this has all happened. We're sorry to see this caused concern amongst our fans who are excited about the release.

The whole team has been working together since yesterday night (Japan time) to investigate what we can do to better this situation, but first, we would like to ask that you do not share these videos.

The game's epilogue and secret movie, which are the biggest spoilers in this game, are planned to be released at a later date just in case, so they will not be shown before the game's release.

We want everyone to be able to equally experience the full game after its release, so we ask for your continued support on this matter.

We're also very grateful that our fans have been warning each other already about the spoilers. Thank you very much. We're one month out from the release. Let's enjoy the game together when it releases on Jan. 29, 2019.
The concerns shown by Tetsuya Nomura and Kingdom Hearts Community is valid because they waited for the third installment of the series for 13 years (Kingdom Hearts II was released in the year 2005).
I heard about the 30 copies, didn't know much about him pawning it off though.

That's crazy.

— Quinton Flynn Official (@quintonflynn) December 16, 2018
There is no official update on whether the main culprit behind the leak has been caught or not, but according to provided by Quinton Flynn, they captured the guy responsible.
Last I heard they captured the guy responsible.

— Quinton Flynn Official (@quintonflynn) December 16, 2018
If Kingdom Hearts III is on your list of games to buy in January 2018 then there's nothing much you can do to avoid spoilers, just stay away from social media websites between now and launch.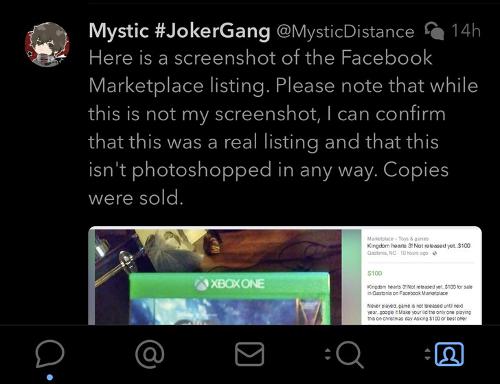 ​