The best MOBA games of all time
Here's a question for you: What do military shooters, free-to-play MMOs, open-world titles, and currently battle royale games all have in common?
All of them have been recent trends in the gaming world, taking the top spot in popularity as their new, fresh, and novel approach peaks the interest of the growing market. But there's one that's not on that list, and that's MOBAs. Multiplayer online battle arenas have managed to maintain their popularity for such a long time now that it seems unfair to label it a trend like the others listed, most of which have since died off as a trend. Maintaining player counts that are in the millions, MOBAs have a continuing dominance over Twitch viewers, and seemingly no end to their popularity.
Since the original MOBA game in 2003, Defence of the Ancients (or DOTA) born out of a custom map from Warcraft III, there have been several games that demonstrate just how varied and exciting different MOBA titles can be.
For this, we are not including any mobile-based MOBAs as most of them are derivative in art and gameplay to many on PC and Console, though the main ones that are available include Mobile Legends: Bang Bang, Arena of Valor & Vainglory.
With that in mind, here is a list of the best MOBA games to hit the gaming world (in no particular order).
League of Legends
Arguably the game that made the genre what it is today, League of Legends is now into its 10th year, and despite some recent troubles at developer Riot Games, the game continues to grow and go from strength to strength. Still comfortably one of the most streamed and most-watched games on Twitch, League has been at the pinnacle of eSports now almost since it launched. With an enormous number of new legends to play, plenty of different modes that continue to capture the MOBA theme and consistent updates to skins and balances to heroes in the Summoner's Rift.
While DOTA 2 has become a challenger to its crown, League has continued to make strides in the eSports community. Seen as the slightly more beginner-friendly option compared to its Valve counterpart, until the genre begins to see a noticeable decline, it's unlikely that you're going to see League lose relevance. They have recently looked to make strides into the Auto Chess style mode popularised on DOTA 2 with Teamfight Tactics and are already making strides with it on streaming platforms.
DOTA 2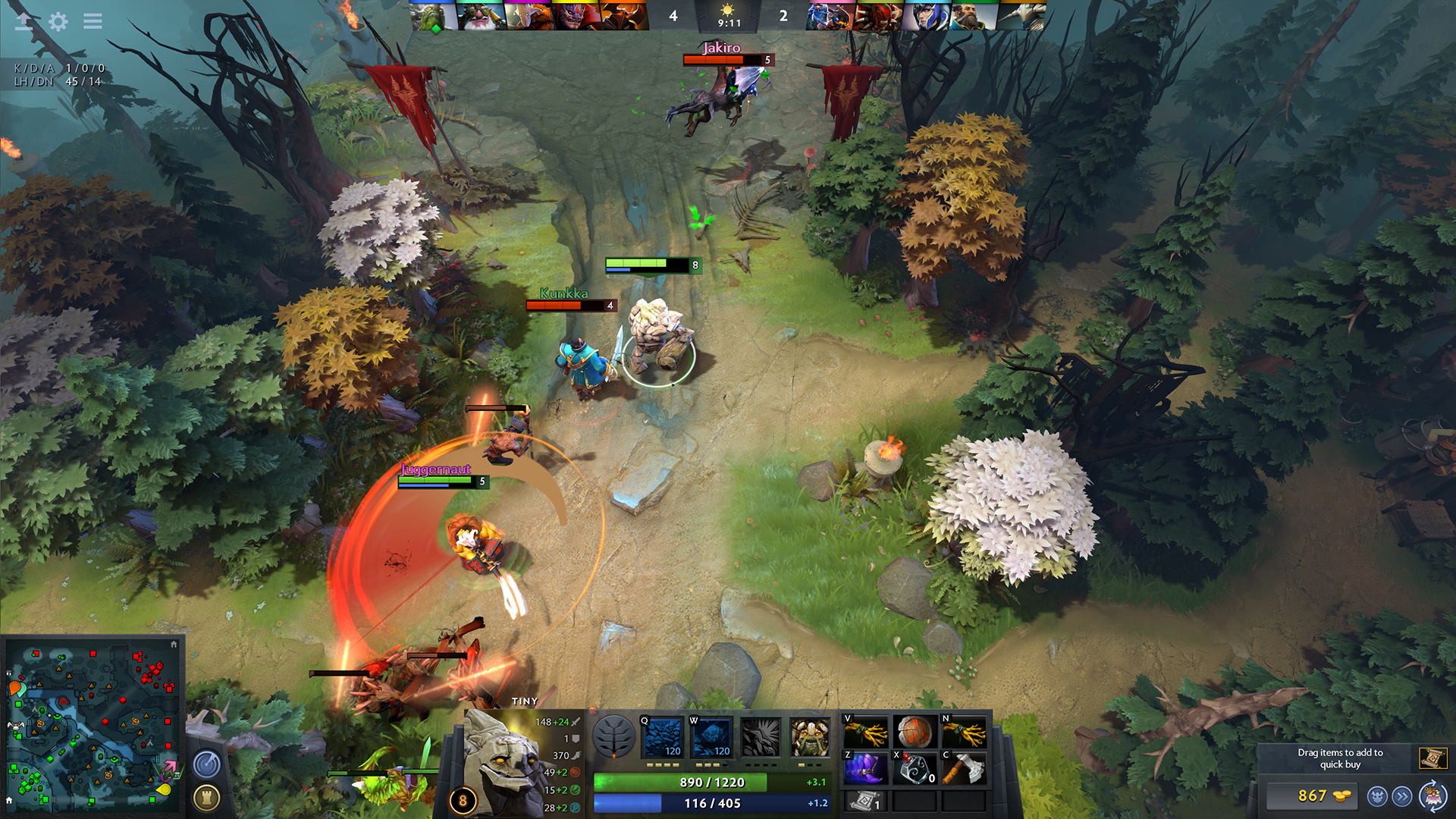 It was inevitable that the main rival to League would also appear on this list, and for a good reason. Developed by Valve, one of their last significant game developments and built with the team that helped create the original DOTA game, DOTA 2 has continued to go from strength to strength with the backing of one of the PC gaming market's most wily and powerful publishers. So much so that their support that last year's World Championships, named The International 2018, saw some of the biggest teams in the world compete for a purse of over $25 million, the most of any single eSports event in history at the time.
Offering a full roster of characters as part of the free-to-play experience, where players only pay for cosmetics, combat, and strategy is profound, and team play is an absolute must. Skills learned here are thought to translate well to League, but not the other way around, which has led some of the community to question the desire to play League, but each has their style, and DOTA 2 expresses its form perfectly. The modding potential is also incredible, already spawning Auto Chess as a result. The future looks good for DOTA 2.
SMITE
Firmly in the 'alternative' option, SMITE takes the MOBA approach differently. The previous two games both use isometric views with RTS style controlling of a single character. SMITE takes the 3rd person action camera, creating a dynamic that while not quite as popular as League (which had a five-year head start) or DOTA 2 (which is backed by Valve), certainly provides a niche for itself within the MOBA genre. Fight as Gods from across several Pantheons, from Thor to Hel in Norse mythology, Anubis to Isis from Egypt, and Apollo to Zeus in Greek, to name a few.
There had been fears early on that with the reputation of developer Hi-Rez Studios for leaving projects behind that it may meet the same fate. However, early success led them to continue working on it, and it's now one of the most popular on the eSports scene, especially so for those uninterested in the isometric style of its rivals. With a very generous God pack that unlocks all current and future heroes at a reasonable price and several modes to keep things fresh, there's rarely been a better time to get involved. It's also available on consoles too, including cross-play and cross-progression amongst Xbox One, Nintendo Switch, and PC players!
Heroes of the Storm
If you are someone who wants to take the teamplay elements of other MOBAs and crank it up to 11, then Heroes of the Storm (or HotS) is where to be. The game places a higher emphasis on team play as your level progression is combined, meaning that capable team play will help you and your team to level up together at a faster rate. It is developed by Blizzard and includes a massive cast of characters from their back catalogs, including Warcraft, Starcraft, Diablo, and even Overwatch. The maps are also not your typical MOBA, offering some unique scenarios that go beyond destroying your opponent's base.
While the eSports scene did not pan out as expected, and Blizzard is taking development at a much slower pace; as a result, HotS is still getting plenty of support with new characters and maps. It's often described as one of the easier MOBAs to get to grips with, so if you are thinking of trying a MOBA for the first time, it's worth considering being your first.
Awesomenauts
The only game on this list that was not free-to-play on release, Awesomenauts takes the same premise as your traditional MOBA game and throws it in an even more left-field direct as a 2D side-scrolling brawler. Filled with a colorful cast of characters, Awesomenauts was initially launched on Xbox 360 and PS3 in 2012, being ported to PC later that year and eventually PS4 and Xbox One.
The game finally went free to play in 2017, allowing all players to join the action without charge and bringing in cosmetic microtransactions to help cover the costs. It's one of the best examples of a more niche game receiving continued post-launch support, and the dedication gets rewarded with a small but dedicated fanbase. It's hugely fun, though, so we recommend giving the game a try if you haven't already.
Battlerite
A slightly contentious pick due to the mechanics of the game, Battlerite removes the lanes, the towers, and the bases with which to defend. Instead, the game boils down to one of the most fun elements of the MOBA genre: the team fights. And it does a fantastic job of bringing those same qualities of lightning reflexes, ability cooldown management, and tactical approach to out-playing your enemies.
Each character has a set of abilities that are similar to characters that you find in traditional MOBAs. Your job either as a duo or trio is to go into a giant arena and fight it out with another team. There's less of a strategic element to the game compared to the lane and creep management of traditional MOBAs, but the action is fast, frantic, and required teamwork to keep opponents down. It's also fairly generous with its offerings to new players, meaning that getting into the game is relatively easy for those starting from scratch. Battlerite has a lot of good going for it, and it's not a big download either. 
Super Monday Night Combat
The only one on our list that is no longer available to play, Super Monday Night Combat (or SMNC) did something unique compared to the other five games on this list: it doesn't take itself seriously, in the right way. To explain, the aesthetics of the game were very much that of a game show, with bright, blocky colors and a bunch of wacky characters. However, it created an atmosphere that was enjoyable because while the game was dangerous, it's hard not to smile at riding a chicken for more cash or listening to the two announcers rip into each other throughout the match. It was also a very competent and fun third-person shooter with MOBA style objectives.
Released as a follow-up to Xbox Live Arcade hit Monday Night Combat, the game had issues from the very beginning as the game released early unintentionally, and while the game worked, for the most part, problems with the matchmaking system and some questions over the monetization of the game started. After developer Uber Entertainment saw potential in a sequel to Total Annihilation through a Kickstarter campaign, the game's support tanked. In 2018, in line with the European Union's General Data Protection Regulation (also known as GDPR), the game was finally shut down completely, which was a shame as with more initial support and a more significant player base, the game had a lot of potentials to find its niche in the MOBA arena.