What are Party Points in Super Mario Party and what can you do with them?
There are a bunch of items and cosmetics to unlock in Super Mario Party.
When you complete any mode in the game, you're rewarded with a set amount of Party Points. These points act as the game's main form of currency and can be used to buy collectible items.
You usually get a set amount of Party Points from each mode, with special bonus points being awarded for certain actions. River Survival, for example, gives you a load of points if you make it to the end and will also reward you points for completing specific tasks. Mario Party mode, however, will only give you 2,000 points for each win, regardless of how you do it.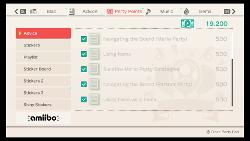 To gain the ability to spend your Party Points, you first need to unlock the option in the Party Pad. It's pretty simple, too—after playing a few games, the lone Toad in Party Plaza will begin to wave. Go up to him and he'll update your Party Pad with the new feature.
You can then use your Party Points to buy Advice for the game, music tracks to listen to, and a bunch of extra Sticker Boards to mix and match your sticker collection on. Some of these options won't be available at the start, however, but they'll be unlocked in time. Just keep an eye out for Toad waving at you—this will signal that there's an update waiting to happen.