4 Best Weapons To Unlock Early In Assassin's Creed Odyssey
Assassin's Creed Odyssey is all about defeating enemies no matter where you are. The game fight mechanism is laden with various enemies including strong opponents and wild animals. So you need some of the best weapons if you want to survive for a longer time. With a combination of best abilities and weapons, you become invincible and take down stronger opponents. In this guide you will get tips on the best Weapons you can have early in the game. Early does not mean at the beginning but as soon as you are familiar with everything. Below you can find info on best weapons and how to unlock them.
Best Weapons To Get Early & How To Unlock Them
You will get weapons by killing enemies and looting chest. Powerful enemies drop stronger weapons.
Artemis's Bow
You can unlock Artemis's Bow early in the game by playing a quest. You will have to kill a wild boar to finish the quest and earn the bow. It is a pretty decent weapon to unlock at the beginning. Getting the ability Devastating Shot with this will offer you 150% Hunter Damage. The effectiveness of fire and poison arrow is also boosted by 150%. Another powerful ability that goes really well with this weapon is Overpower Bow Strike. You can shot a powerful arrow that can cause 800% Hunter Damage and explodes on impact.
+15% Hunter Damage
+15% How Charging Speed
How To Get Artemis's Bow: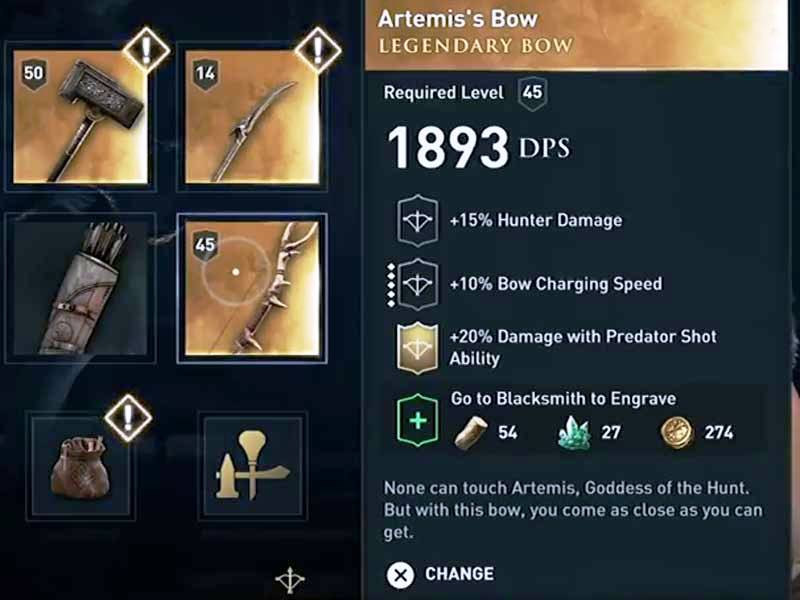 To get this bow you will have to play The Daughters of Artemis quest. The first main objective of this quest is to find and kill a Kalydonian Bear which is located in Phokis.
Nikoloas's Sword
The sword belongs to The Wolf Of Sparta – Nikoloas. You will come across this weapon while playing the main quest where you have to meet the military general. The task to take down the general was given by Elpenor. This is the first time you would be moving into a new territory and you will also unlock Conquest Battle.
+9% Warrior Damage
+8% Damage on Athenian Soldiers
How To Get Nikolaos's Sword: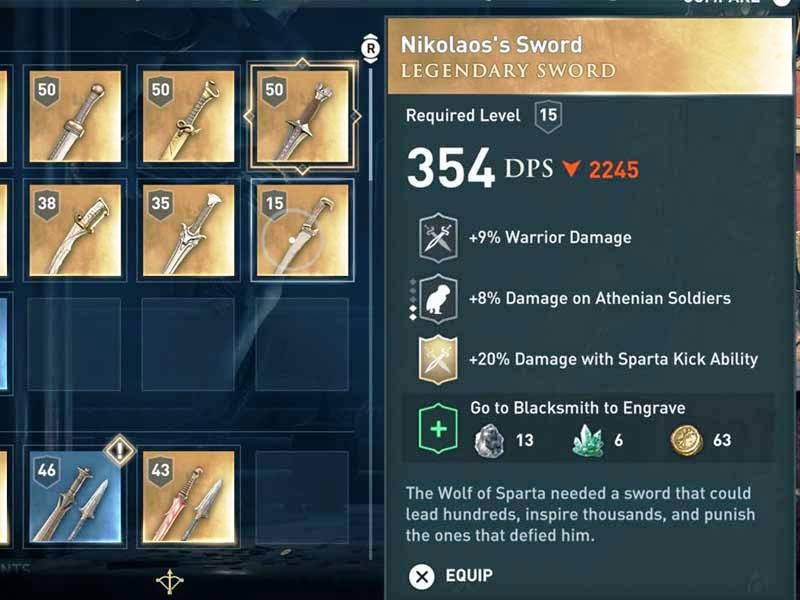 Play the main quest The Wolf Of Sparta, it will lead you to Sparta where you have to fight for the Spartans to meet the military general. There you will have two choices either to kill Nikoloas or spare him. If you spare him you will get the helmet, if you choose to kill him then you have to fight Stentor. After defeating him you will earn the Sword.
Hammer Of Jason
Hammer Of Jason is a Legendary Heavy Blunt Weapon offer you +15% Damage with Heavy Blunt Weapons. This means you can cause higher damage with a plus point when you are dealing with strong opponents. Below are the weapons stats. Upgrade the weapon at the blacksmith to increase its power.
+15% Warrior Damage
+15% Damage with Heavy Blunt Weapons
How To Get Hammer Of Jason: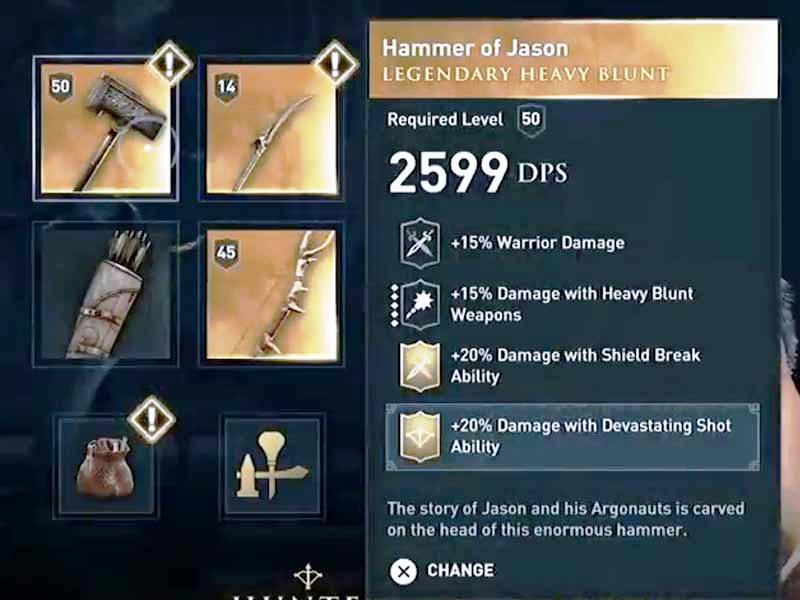 The weapon is located in the Argolis region, go to the Palace of Agamemnon. There you have to locate a golden chest with two wolves over it. It is located somewhere in the center of the place, You will get the weapon in it.
Griffin's Scythe
The third weapon you can look forward is the spear called as Griffin's Scythe. It is a legendary weapon that can be unlocked if you are somewhere or above Level 14.
+9% Hunter Damage
+6% Adrenaline per Hit
How To Get Griffin's Scythe: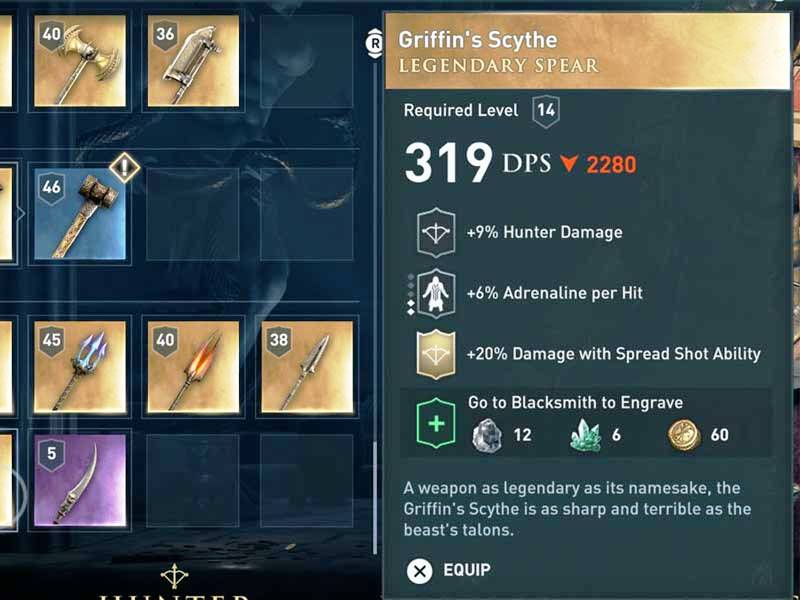 Similar to other Legendary weapons this one also is dropped by a random mercenary, you will need to check through the different one on the map and you can spot the rewards they will drop once you defeat them.
For more updates on the game do check our Assassins Creed Origins Wiki guide.