Fortnite's challenges for week 5 of season 4 are live, here's how to finish them
After being delayed by two days, the challenges for week five of season four of Fortnite are here. These are much simpler and easier than last week's challenges, and they shouldn't offer a ton of difficulty before you finish and continue on your quest of Victory Royale world domination.
Let's take a look at what this week's tasks are.
Deal damage with SMGs to opponents (500) – 5 Stars
This one's self-explanatory. Open enough chests and you'll have enough gray SMGs to arm a small army, so just use them to deal five health bars worth of damage for five Battle Stars.
Search chests in Dusty Divot (7) – 5 Stars
Dusty Divot covers the entire large area of the massive crater and the buildings inside of it as well as the remnants of Dusty Depot. There are a decent amount of chest spawns in the overall area.
Use a Vending Machine (1) – 5 Stars
Easy enough, right? Just farm enough materials to use a Vending Machine. It doesn't matter what you purchase. Check out our map to see where the machines spawn in-game.
Dance with others to raise the Disco Ball near Loot Lake (1) – 5 Stars
One of the factory buildings on the west coast of Loot Lake has an interesting layout, as there are four tiny dance floors in each corner of the room, with a disco ball on a pole in the middle. You'll need to head here with your squad and have all four members dance long enough in the four corners of the room to raise the ball.
Follow the treasure map found in Greasy Grove (HARD) (1) – 10 Stars
Head to the villain lair on the hill to the east of Snobby Shores for this hidden location.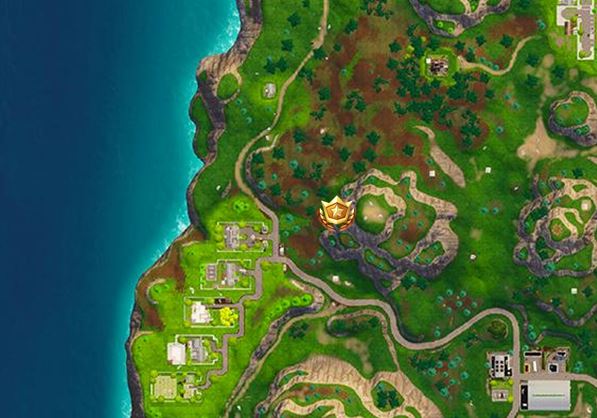 Minigun or Light Machine Gun Eliminations (2) – 10 Stars
Hold down the trigger, let out a roar of bloody murder, and pick up two eliminations for 10 Battle Stars.
Eliminate opponents in Lucky Landing (HARD) (3) – 10 Stars
Lucky Landing is usually good for at least a couple people or one or two Squads to land there each game, so head to the southern tip of the map for three eliminations to earn your stars.