Just Cause 3: Where to Find F1 Car Location
Formula 1 Car is now added in Just Cause 3 and you can use it for your gameplay. It is a Hell faster than any other car and speaking about the fastest it is also dangerous for off-roading. This Just Cause 3 Guide will provide you how to locate the F1 car location and how you can use it well in the game.
Where to Find F1
To Locate you the F1 car you must Fast Travel to BAIA Province doesn't matter whether you have liberated yet or Not the Car will Spawn at that same location. Open your map and locate the 'Salrosa Sprint Race' which should be just near the Cost. It will be highlighted with a Steering Wheel Symbol. We Have marked the Location in the picture shared below.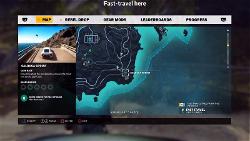 Once you Fast Travel to the Salorosa Sprint Race do not begin with the challenge, we just needed the closest Fast Travel that is why we choose this. Just Turn Around and walk Towards the Road. You will notice a wrecked trailer across the Road or on the same road with an F1 car beside. The Location will be dynamic so you need to search the trailer there and you Car is just beside the Trailer like we have shown in the image below.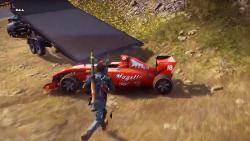 If you didn't find any Trailer or F1 Car there then don't worry maybe your Fast Travel made it slow for it to Spawn. You must move a bit away from the area and let the Area reload. Return back to the same place(via car/bike or walking) and you will find your car there itself. Get inside and enjoy your ride.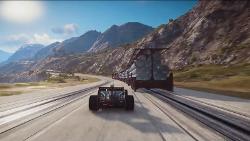 Another Guaranteed Place where you will find the F1 car is in the Northern region, INSULA STRIATE. Look for a big city called Citate Di Ravello in a little region called REGNO. Check out the Marked Map location below for the exact location.
In order to get his car, you need to get the city liberated and then you will see to the NW of the city a checkpoint race. You will get an F1 car for this race so either complete the race or take the car it all up to you.
The Car is to fast and no matter how many times you break it the car will spawn at the same place. But if you want to avoid the Fast Travel and get it right where you are then you must take the car to the nearest garage and save it. Now Go ahead as ask for Rebels Supply Drop you F1 car and there you go, drive away safe and sound.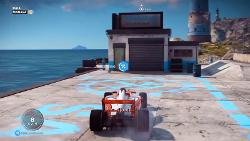 If you have any doubts regarding the location or the car let us know in the comments below. Enjoy your F1 car and let us know your experience.